Are There Wolverine In Idaho?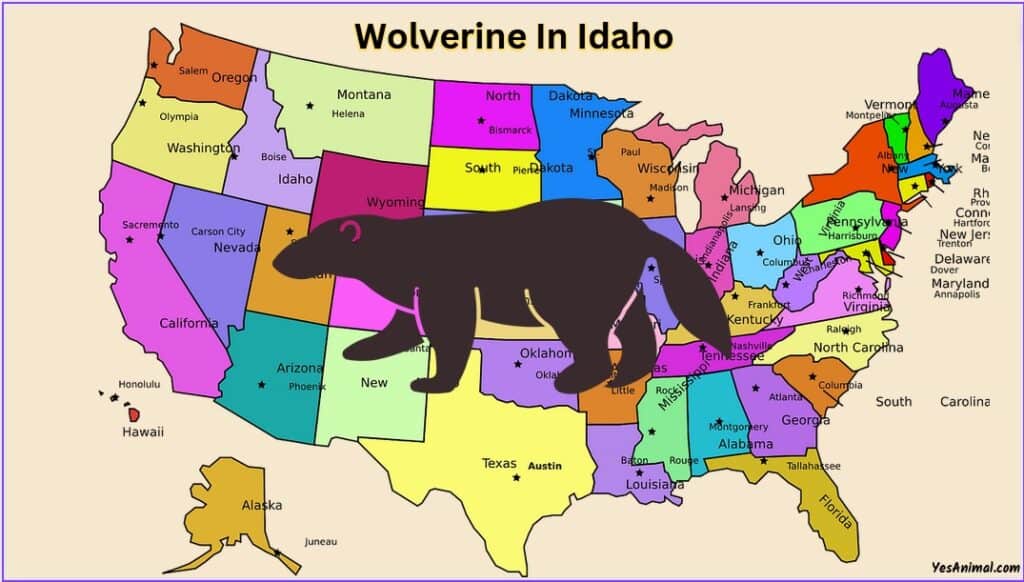 Wolverines might be more widespread in Idaho when compared to other states in the U.S., but they are definitely not abundant. While there is only very little information on the current population of wolverines, they typically occur in high-elevation alpine habitats of northern and central Idaho.
Also, the Fish and Game species profile on them shows that they are found about everywhere in the state except for the Southwest region and a track via South-Central Idaho that extends around the south-most region of the state's boundary with Montana. However, the Idaho Department of Fish and Game says it does not have much data on wolverines, but wolverine sightings have been documented across most of the regions in the state.
How many Wolverines are in Idaho?
Among the handful of elusive animals in Idaho's mountainous forest regions, wolverines are one among them. Only a small fraction of the residents have encountered one in the state, and it is also very hard to determine the number out there as they are seen only in the rugged mountainous terrain.
The officials of the department consider the Wolverine population a crisis due to its small number in the state and their requirement for specialized surroundings, including deep snow. However, Idaho Fish and Game is trying to know where their habitat, or at least, where they are possibly living.
Where can I see Wolverines in Idaho?
Wolverines are quite secretive and are very rare to be spotted in the state, despite having an overall year-round habitat range in Idaho, according to the Idaho Department of Fish and Game. This is because they are professionals at avoiding humans and are mostly found in the forested alpine atmosphere, in rugged mountainous terrain in a very small number.
They can mostly be seen in the central region of the state and individuals are reported to live in Payette National Forest and Boise National Forest. Also, wolverines are very territorial and prefer huge territories which keeps them away from being very highly populated.
When Was The Last Idaho Wolverine Sighting?
On March 3, a group of tourists got a lifetime experience at Yellowstone National Park to meet the elusive wolverine animal that crossed their trail at the Park. The group was amazed by a wolverine that is extremely secretive that is rarely spotted in Yellowstone National Park.
Also Check Our Guide On Wolverine in US
What State Has The Most Wolverines?
There is only a small wolverine population in the U.S., of which Alaska has the most wolverine population when compared to the Lower 48 states. How many wolverines are unknown, however, they are numerous enough.
Still, Alaska has an enormous wolverine population, and spotting a wolverine is not a very simple experience. It might look akin to attempting to spot a needle in a haystack. They are present all over the mainland and on a few islands of the southeastern region of Alaska. 1
Can You Hunt Wolverine In Idaho?
No, you can not hunt and trap wolverines in Idaho as they are very less in population. The Idaho Department of Fish and Game has no hunting or trapping season for wolverines since 1965.
Though the animal is not considered endangered in the state, Idaho ranks them in its class of most concern, which states it is booked for "critically imperiled" animals.
Also, if hunted the Fish and Game officials have stated that any trapped wolverine will be obtained for educational purposes. Conservation parties have been functioning to get wolverines recorded as threatened animals on the Endangered Species List for several years as they are considered potentially at risk in the future.
How many wolverines are left in the US?
Though wolverines are the biggest largest land-dwelling creatures of the mustelid clan, there are only around 250 to 300 Wolverine individuals left in the U.S. The species are widespread in Alaska, but conservation groups have said that their populations in the Lower 48 states including Idaho, Oregon, Montana, and Wyoming are threatened by natural habitat loss, trapping, isolation, and climate change. They are also listed as an endangered species in the country.
Also Read Our Guide On Wolverine in Canada
Conclusion
And that was everything you need to know about the Wolverine in Idaho. I hope this article answered all your queries.
Our Source For This Guide
Founder Of This Website
I'm a passionate animal lover and researcher, I've created this website so that people can learn about the size and characteristics of different animal species. My goal is to educate and inspire people to appreciate the diversity of our planet's wildlife.