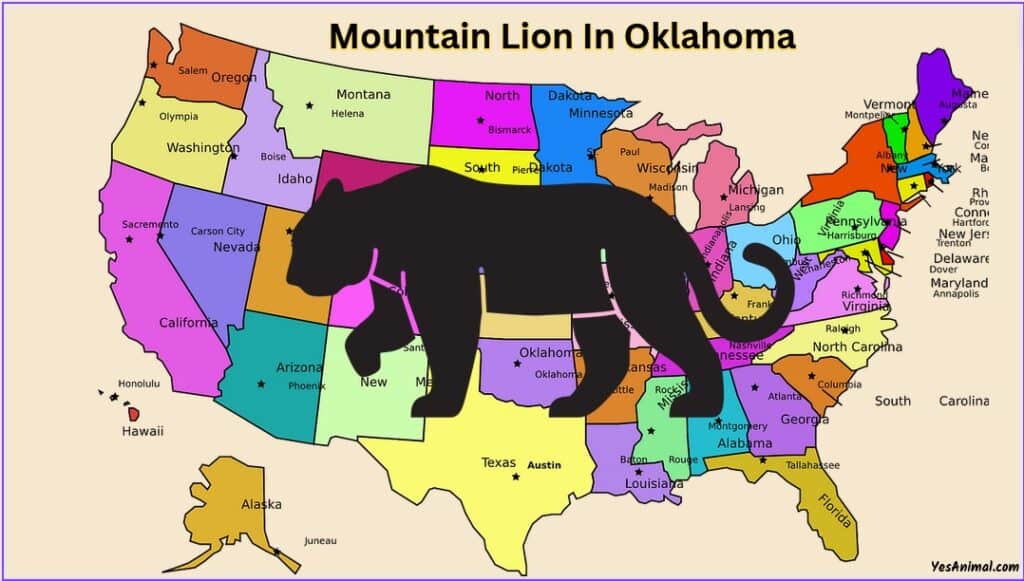 Oklahoma, with its various landscapes from the ancient mountains to rolling plains, acts as a home to a vast array of wildlife animals. Among the various intriguing creatures in the state, the powerful mountain lion has caught the fantasy of many nature enthusiasts.
Historically, mountain lions were found in Oklahoma. But what is the state of them in recent years? Below I've explained all the mysteries surrounding mountain lions in Oklahoma.
Do Mountain Lions Live In Oklahoma?
Mountain lions were historically common in Oklahoma but after European settlement began in the United States in seriousness, with ranches, farms, and towns, full of various livestock.
As they came into conflict with these wildlife animals the U. S. Department of Agriculture & Wildlife Services, mandated a predator control and eradication program, in 1850. Mountain lions were poisoned, trapped, shot, or even killed.
By the late 1850s, this program made mountain lions increasingly rare in the state. Mountain lions were functionally extinct in Oklahoma and did not fare any better and there hasn't been a resident population of mountain lions in Oklahoma since the early 1900s.
In recent years though mountain lions have been functionally extinct, there have been reports of sightings. However, these reports do not confirm any resident population of mountain lions and it is believed that they have migrated into the states from the nearby states.
Is There a Black Mountain Lion In Oklahoma?
No, there are no black mountain lions found in Oklahoma as there has been no documented sighting of black mountain lions found in any region within North America. There are black jaguars and black leopards but these animals are also brought into exotic animal zoos and exotic animal parks.
Also, there have been a few reports of seeing black panthers in the state but wildlife officials state there is absolutely no proof supporting the presence of black panthers in Oklahoma.
Oklahoma Mountain Lion Sightings?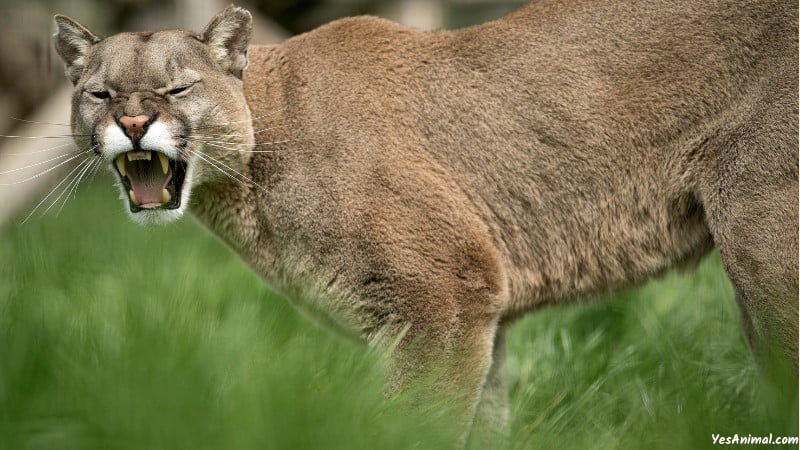 A mountain lion, on April 15, 2022, was captured in Woodward County, Oklahoma, on a trail camera, which was the fourth assurance of 2022 by the Oklahoma Department of Wildlife Conservation (ODWC).
Previous to this sighting, ODWC documented one in Cimarron County on a trail camera where that individual lion had been documented on April 8, and February 16 in Osage County, and in Pushmataha County on January 23.
While there have been 52 confirmed spotting of mountain lions since 2002, in the state of Oklahoma, the ODWC registers that there is no evidence of a breeding population within the state. Also, the 52 sightings do not indicate that it has 52 different mountain lions and it can be multiple sights of the same individuals that move through the state.
Also Check Our Guide On Mountain Lions IN US
Can You Shoot A Mountain Lion In Oklahoma?
The state of Oklahoma does not have a hunting season for mountain lions as they are protected species in the state. However, if mountain lions commit or are about to engage in depredation on any domestic animal or when considered a quick safety threat then they can be taken year-round.
Where In The U.S. Do Mountain Lions Live?
Mountain lions are found on all three American continents and their range starts in Canada's Yukon and stretches south through regions of North, Central, and South America.
In the U.S., they are mainly believed to be inhabited in the western states, the midwestern states of Nebraska and South Dakota, and Florida in the southeast. Though mountain lions are native to the midwestern and eastern states, they are extirpated from this region.
What Kind Of Wild Cats Are In Oklahoma?
Oklahoma is not only native to mountain lions but also bobcats. Bobcats are abundant in the state hunters harvest more than 4500 species of them every year.
Bobcats are elusive and live in a mixture of terrain that includes deciduous forests, ravines, dense forests, outcroppings, rocky ledges, or field borders. In Oklahoma, their home ranges between 30 to 35 square miles for male bobcats and around 5 square miles for female bobcats.
Also Check Our Guide On Mountain Lion In Ohio
Conclusion
And that was everything you need to know about the Mountain Lion In Oklahoma. I hope this article answered all your queries.
Thank You For Reading!
Our Goto Source For This Guide
Founder Of This Website
I'm a passionate animal lover and researcher, I've created this website so that people can learn about the size and characteristics of different animal species. My goal is to educate and inspire people to appreciate the diversity of our planet's wildlife.