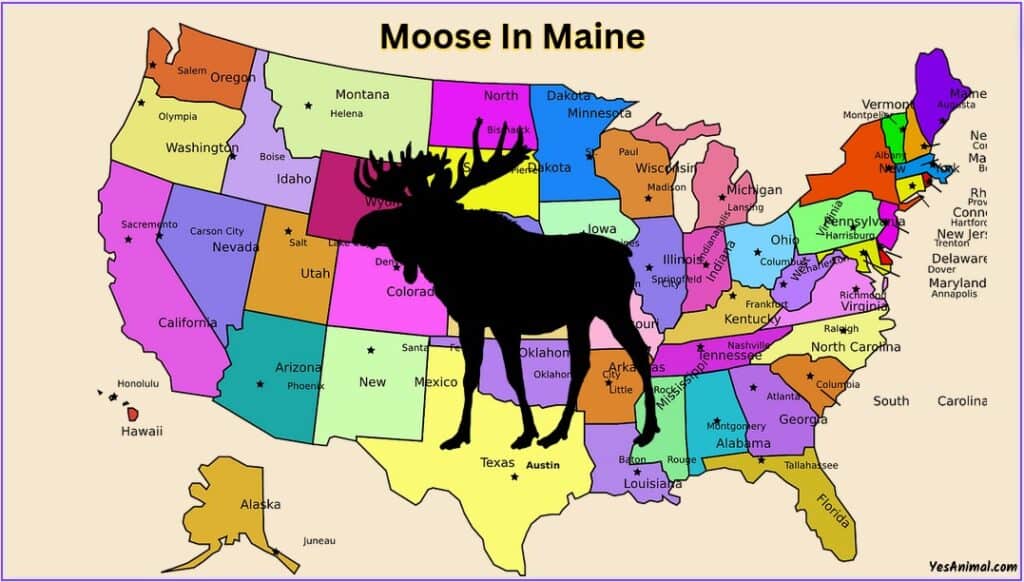 Looking to know about the moose in Maine? You have come to the right place! Below In this article, I've explained everything you need to know about the moose population in Manies, the best place to see moose in Maine, and if you can hunt one in the state.
Are There Any Moose In Maine?
Maine is one of those few states in the USA that has a huge population of moose. It has the biggest concentration of moose in the nations outside Alaska.
In recent years, they are impacted by threats like changing climate and environment. As climates warm up, diseases expand and have big impacts on the population in Maine. Winter ticks have also been a threat to the population.
How Many Moose In Maine? Maine Moose Population?
The moose population in Maine is the biggest when compared to the other 48 states present in the lower USA. the moose population is estimated to be anywhere from 60,000 to 70,000.
How Common Is It To See Moose In Maine?
Though they are very huge in number it is difficult to spot them in Maine. However, you can spot them easily in the wild. Due to their big size, you can easily find moose moving around in open areas. Which makes it fairly easy to spot one if you are lucky enough to be at the appropriate place.
They can be often seen searching for dinner in wet areas, along logging roads, resting in gravel pits, and moving around a few snowmobile or hiking trails.
During summer, they are typically seen at higher elevations and hardwood stands, where food availability is less available, but have high shading for cooler temperatures. Moose in winter are found where hardwood is available and feed in regenerating stands.
Where To See Moose In Maine? (Best Time Of Year To See Moose In Maine)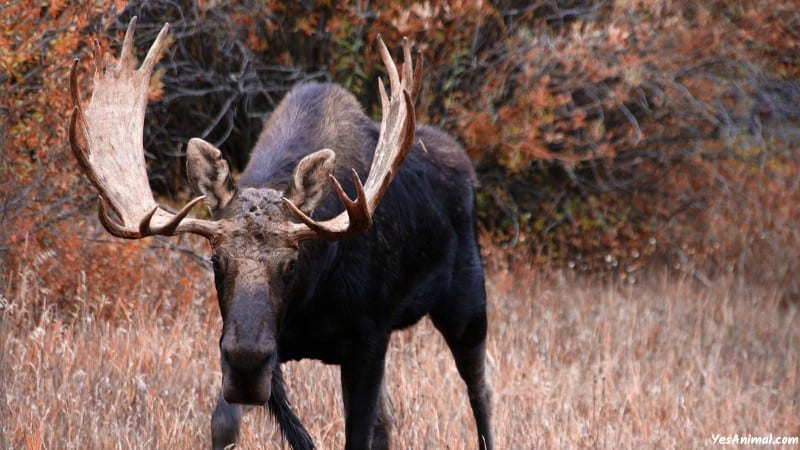 Moose can be spotted all over the state, but their highest concentrations are in the Kennebec Valley, the Western Lakes and Mountains, Aroostook County, and the Maine Highlands.
The best time to spot one is either at dawn or dusk. They are mostly active from mid-May to July and also during the fall which is their breeding season.
In the fall, they are known for their impressive antlers that are fully formed. Here are a few places in Maine where you can spot moose.
This fantastic water body is Maine's beautiful place that is located in the northern region of the state. You stay in the lakeside lodge and even go on a moose safari. Summer and spring is the best time to spot one. It is also home to many campgrounds. The Northeast Whitewater is the best spot to watch moose in the region.
Baxter State Park is a beautiful park and the foremost destination to spot moose in Maine. The park is home to many trails, summits, campgrounds, and many forest cabins.
This area is this moose's playground, and there are many chances to see them. What's great about the park is that there are designated watching areas, like Stump Pond and Sandy Stream Pond. also, you can go on a special moose safari and explore the track-spotting areas.
This beautiful land in the center of Maine surrounds the Kennebec River and is up to the Canadian border. Also, the unpopulated areas are the primary spots to see moose.
You can encounter them near the Kennebec shores and the biggest chance is to see them near Jackson and the border areas. The coolest way to watch moose is by taking a canoe through a refreshing sail.
The Rangeley Lake is expansive, breathtaking, and the most glorious lake in the nation. Moose are benefiting from these overgrown corners of Maine too. Though it might be more of an oddity than a rule, locals have seen them along Route 16 and 17 in the area.
Maine Wildlife Park is a home to rescued wildlife, and they enlighten visitors about the animals. You can definitely see a moose and obtain background knowledge about them. Also, there is other Maine wildlife in the park, which is an excellent family trip.
Also Check Our Guide On Moose In America
How Big Are Moose In Maine?
Being the biggest species of the deer clan, moose can be up to 6-7 feet tall at height, sporting shoulder hump and brown fur.
A female moose that is about 3 years of age can weigh about 836 pounds and at their prime age of 5 years, they can weigh about 1,106 pounds.
The biggest bull ever caught in Maine weighed about 1,330 pounds. The length was around 9 feet.
Why Does Maine Have So Many Moose?
According to early explorers, moose were abundant during the 1600s. But by the end of the 1900s, the population of moose in Maine had reduced to 2,000. This downfall was due to unrestricted hunting. Forestland clearing for agriculture also led to its decline. In 1900, laws were made to protect moose from hunting, and enhancing habitat conditions.
This increased their population and reached the highest in 2000 pioneering contemporary approaches the moose population is about 76,000. Also, a working group created objectives and goals to guide moose administration in Maine.
The goals were grouped into Recreation Management, Road Safety, and Compromise. So, this held in maintaining a healthy population even when hunting, constructing new roads, and reducing vehicle/moose accidents.
Also Check Our Guide On Moose In Idaho
Can You Hunt Moose In Maine?
Moose hunt in Maine is one of the dreams in the nation, with more than 50,000 applications for the 3,000 permits issued. To hunt in Maine, you will require a permit or can be selected as a sub-permittee by a permit holder.
Due to demand, the permits are controlled in three different ways: a competitive auction, a lottery, and allocation for disabled veterans.
Hunting is permitted in 20 Wildlife Management Districts for a few weeks in September, October, and November, with dates varying. When you win a permit, a date, specific region, and type of moose will be allocated. You must hunt only in the given district.
Conclusion
And that was everything you need to know about the Moose In Maine. I hope this article answered all your queries.
Thank You For Reading!
Our Goto Source For This Guide
Founder Of This Website
I'm a passionate animal lover and researcher, I've created this website so that people can learn about the size and characteristics of different animal species. My goal is to educate and inspire people to appreciate the diversity of our planet's wildlife.