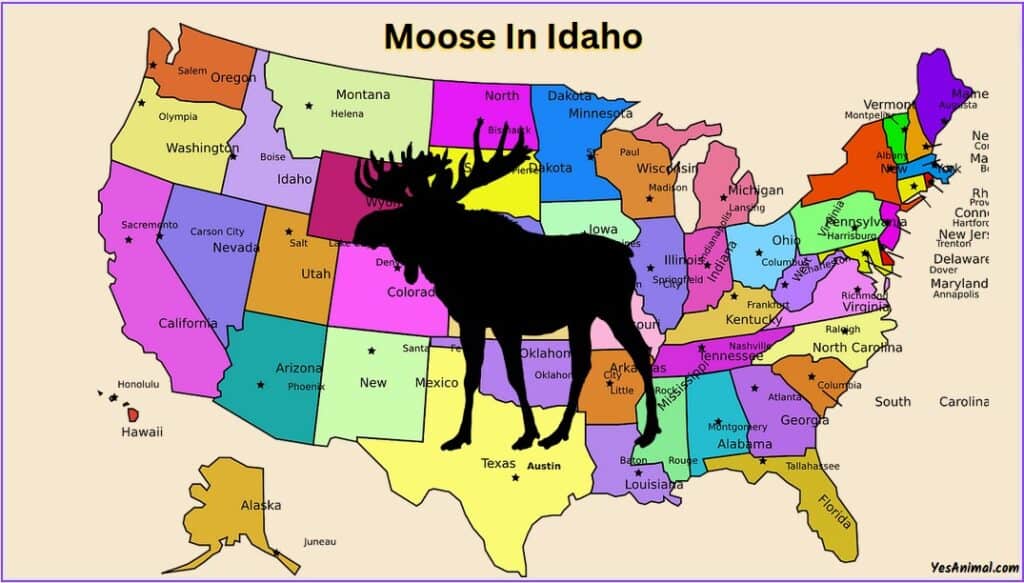 Idaho, is home to many animals, including moose. But what is their current situation in the state? Below In this article, I've explained everything you need to know about the moose in Idaho.
Are There Any Moose In Idaho?
Idaho moose exists in most parts of the state except around urban Boise and the southwestern portion. Their range has been growing in the south-central area, where we normally would not spot a good moose habitat. But it looks like Idaho's moose population is under threat.
The Idaho Fish and Game officials have stated that they have seen a major decrease in population in southeast and northern Idaho. But it looks like even they do not know the reason for their decline. Wildlife biologists suspect that it is due to a combination of ticks, habitat loss, and predators.
How Many Moose In Idaho? Idaho Moose Population?
Idaho Fish and Game Department is also not very sure of the exact moose numbers in the state, but they are estimating it to be around 10,000 to 12,000 inhabitants. To calculate the moose populations in Idaho, the Idaho Fish and Game Department depends on harvest information.
The department has also stated that it is hard to do a count as the moose will not herd up during winter like elk or deer. To estimate the population, they use harvest information like the percent of hunters who have harvested one, hunter success rate, or the days it takes to harvest one in a hunt. Also, sometimes they use the antler stretch of harvested moose.
What is the moose called in Idaho?
In Idaho, moose are called Shiras Moose or Wyoming moose. This species is North America's smallest moose species, however, they are still quite massive. These species of moose are mainly located in Wyoming, Idaho, Montana, and in a few areas of Utah, Washington, and Colorado.
The Shiras Bull has small antlers when compared to the Canadian moose. Their body color varies from black to rusty brown with brownish tackles. Their legs are white to gray. The Shiras cow is quite smaller when compared to their male counterparts and does not possess any antlers.
Also Check Our Guide On Moose In America
How Common Is It To See Moose In Idaho?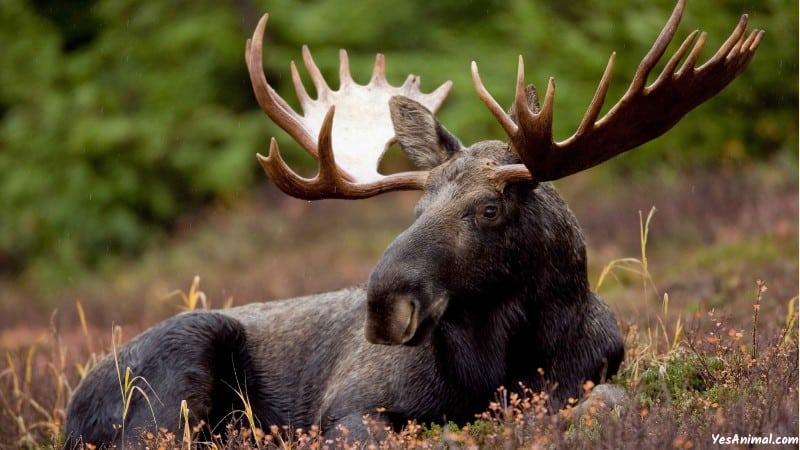 Though there is a huge number of moose present in Idaho, it is quite hard to spot one except for a few cases. In Idaho, they are typically seen in a good moose habitat, which includes plentiful shade from heat and forage.
Where To See Moose In Idaho? (Best Time Of Year)
The best place in Idaho to view moose is Yellowstone National Park which is well known for its plentiful megafauna. When visitors come it's grizzlies, elk, and bison, you can also see moose in the park. You can look for them on riverbanks, boggy meadows, and along lake shores.
There are higher chances of seeing one in places like Fishing Bridge, Hayden Valley, and Willow Park. this is because all these places in the park are filled with an abundance of willows and water. Moose are easy to spot in early spring or winter when they move out of their habitat and come looking for food.
How Big Are Moose In Idaho?
The bulls can reach a height of 6-6.5ft at their shoulder levels and around 10ft in length. And adult Shiras male moose can weigh anywhere from 600 to 1400 pounds. An adult female cow moose can weigh anywhere from 500 to 1200 pounds. The antlers that bull moose possess can go up to 5 feet and weigh around 50 pounds.
They have a pendulous muzzle hanging below their upper lip and a bell, a huge tuft of hair hanging below under their throat. Their huge body proportions and lengthy legs enable them to graze even in deep snows, and in deep water in summer.
Can You Hunt Moose In Idaho?
Moose hunting in Idaho can be from densely timbered woods to the Snake River Plain. Though a few moose populations have been declining in a few areas of the state, they have also been expanding their habitat in other regions of the state.
Moose hunting in Idaho is highly regulated and is known as a "once in a lifetime species." this is because a hunter can harvest only one moose with antlers and one without during his lifetime. So, to hunt a moose in Idaho, you will have to get a controlled hunting tag, which is not available for anyone to purchase.
You will need to get an Idaho hunting license for which the dates are usually opened in the month of April. Also, if there are excess controlled hunting moose tags, then you can apply for an extra hunting option during the late draw.
Though there is a great opportunity to hunt moose in Idaho. But, in recent years Idaho Fish and Game Department has lowered the number of moose hunting tags as the population decreases across the state. In 2021-22, only 634 moose tags were given, which is a 45% reduction from the previous year.
Also Check Our Guide On Moose In Connecticut
Conclusion
And that was everything you need to know about the Moose In Idaho. I hope this article answered all your queries.
Thank You For Reading!
Our Source For This Guide
Founder Of This Website
I'm a passionate animal lover and researcher, I've created this website so that people can learn about the size and characteristics of different animal species. My goal is to educate and inspire people to appreciate the diversity of our planet's wildlife.