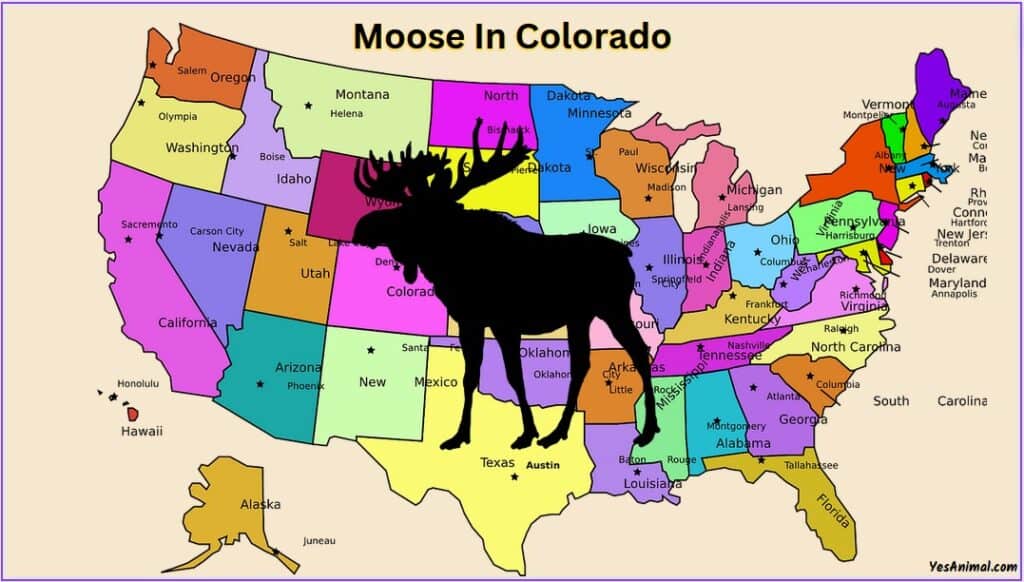 The wildlife in Colorado is known to have a diverse ecosystem. From the Rocky Mountains to all the grasslands, these wild backcountries allow for all diverse ecosystems to thrive. There are more than 750 species that have Colorado as their home — and it includes the Moose.
Below In this article, I've explained everything you need to know about the moose in Colorado, their diet, and where they can be spotted in the Colorado wild.
Are There Moose In Colorado?
Yes, there are Moose In the state of Colorado. Colorado wildlife officials started considering moving moose in the 1950s, into the state. They thought that there existed an unutilized habitat in the state where moose can flourish.
Therefore, the decision was made to move moose into the state and was introduced in the late 1970s. Ever since then, these species flourished, reproduced, and scattered across the state.
How Many Moose In Colorado?
Roughly about 3,000 moose are roaming in the state of Colorado. Despite their huge population today and the truth that they used to be present only in the Rocky Mountains, moose were almost absent until the late 1970s from Colorado.
In the year 1978, 12 moose were moved to the North Park region from Utah, and a dozen again were introduced into the state a year later.
From 1991 to 2010, more than 200 moose were discharged into the upper Rio Grande Valley around Crede, the Grand Mesa National Forest, and the White River National Forest. These species flourished, reproduced, and scattered across the state.
How Big Are Moose In Colorado?
The moose is the largest species of the Cervidae clan of deer. The big, wide, antlers of males, and their towering size, long legs, and nose, make them stand out.
Moose can weigh above 453.6 kg and stand up to nearly 2.1m in height at shoulder level. The bull moose present in Colorado is the largest mammal and an adult weighing anywhere from 700-1400 lbs.
Is It Rare To See A Moose In Colorado?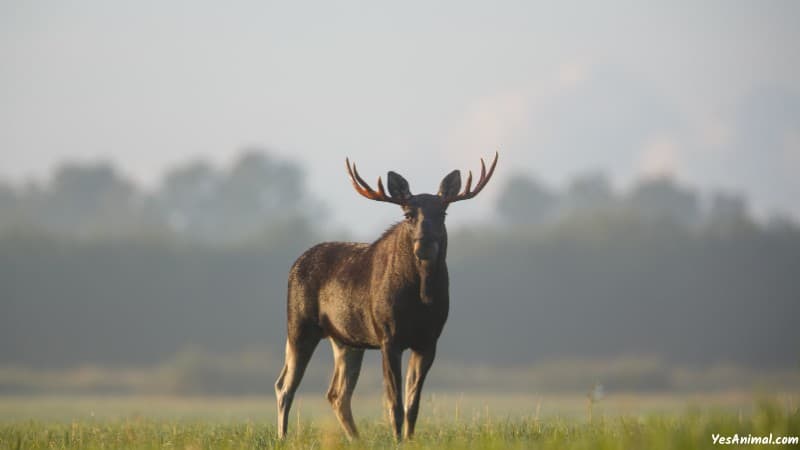 Although moose are increasing in Colorado, they are not to be spotted easily like other animals on an everyday basis in Colorado.
Also, moose are very common throughout the mountains and are mostly found in the north, especially around Rocky Mountain National Park and North Park. They are also often spotted south of Hinsdale County around Lake City and near Gunnison County. Another good region is Grand Mesa.
Also Check Our Guide On Moose In America
Where To See Moose In Colorado? (Best Time Of Year To See Moose In Colorado)
As with all wild animals, visitors must enjoy them from a distance. They are unpredictable and can be dangerous. Moose can be potentially seen at any time of night or day, the early evenings and morning (around sunrise and sunset) are your time to see them. Here are a few places in Colorado where you can spot one in the wild.
An isolated and huge valley situated near the Wyoming/Colorado boundary, North Park is the top region in the state to spot a moose. Visitors from anywhere in Jackson County, including near Cowdrey and Walden have a good chance to spot them.
Spread over 71,000 acres, the State Forest State Park house more than 600 moose. Make sure to visit the Moose Visitor Center to get the recent sightings, interpretive signage, and the park's history. Biking or hiking on the park's trails is a great way to see moose. Popular trails are the longer 7.1-mile American Lakes Trail and 2.3-mile Lake Agnes Trail.
Arapaho National Wildlife Refuge
The Arapaho National Wildlife Refuge is a protected site that is the best way to spot animals when in their cars. The park offers a 6-mile loop on the road, where it passes through scenic marshes and meadows. The paths above the streams provide a great chance to spot moose.
Rocky Mountain National Park
Moose are very common in the western area of the park, and tourists have reported many sightings near Highway 34, which is near the park's entrance. Sightings of moose in the eastern region have also increased in recent years. In this area, the Sprague Lake is located where moose are often spotted. The lake is only a short stroll from the trailhead.
Grand Mesa National Forest
Moose was introduced to this giant mountain by Colorado Parks & Wildlife, in the early 2000s. Today there are more than 400 moose in the forest area. Though they are found all over the forest, CPW has mentioned a few spots for visitors to sight moose. These spots include Highway 65 between Mesa-Delta and Powderhorn County line and Vega State Park.
Why Are Moose Tagged In Colorado?
Moose in Colorado are tagged with a GPS tracker on their collars. This method provides Colorado wildlife officials with a non-intrusive method to keep track of these animals present within the regions without interrupting their regular day-to-day habits.
After all, the purpose of this task is to sufficiently understand the routines of moose in the state of Colorado and the possible reasons for their wanderings in the state.
Can You Hunt Moose In Colorado?
Yes, you can hunt a moose in Colorado. But if there is a downside of moose hunting in the state then it has to be the cost. Since 2019 prices have increased, and it is an expensive state to apply for hunting. In 2022, a total of 589 permits were issued, with 57 for non-residents. These permits will be split between cows and bulls.
Successful bull applicants can hunt in all three seasons with a permit. Colorado provides the usage of three weapons archery, rifle, and muzzleloader with various hunting season dates.
Mostly the archery and muzzleloader season runs in September, and the rifle hunting season is in October. Cow moose hunting applicants are given only one season.
Also Check Our Guide On Moose In Canada
What To Do If You See A Moose In Colorado?
Moose must not be taken for granted for their docile nature. They can quickly get aggressive when stressed; the majority of harmful interactions in Colorado involved a moose being harassed or agitated.
When chased by a moose, know that you cannot outrun one. Rather, use your agility by running zigzag or hiding behind trees, or even climbing one. Their vision and absence of agility might help you duck away from them. The Colorado Parks and Wildlife advise, putting anything between the moose and you can help you prevent from being hurt.
Conclusion
And that was everything you need to know about the Moose In Colorado. I hope this article answered all your queries.
Thank You For Reading!
Our Source For This Guide
Founder Of This Website
I'm a passionate animal lover and researcher, I've created this website so that people can learn about the size and characteristics of different animal species. My goal is to educate and inspire people to appreciate the diversity of our planet's wildlife.