Alaska, located in the northwest region of North America, is known to be home to an abundance of native wildlife, both rare and common. The state also is native to many species of mammals, small rodents, and different birds, including the Moose.
Below In this article, I've explained everything you need to know about the Moose's presence in Alaska, their eating habits, and where you can easily spot one in the Alaska wild.
Are There Moose In Alaska?
In Alaska moose are nearly everywhere in the state. They are found from Southeast Alaska to Northern Alaska's Arctic slope and are found mostly in the Northern forest regions.
They are concentrated near the rivers like the Yukon or Stikine rivers. They can be seen in areas that have experienced wildfires as the land yields birch, willow, and aspen shrubs.
How Common Is It To See Moose In Alaska?
Moose are the most commonly spotted animal in Alaska. You can see them anywhere across the state where you go. These animals usually stroll along pathways calmly and are not extremely nervous about human existence. They are very active in the summer in the evenings and mornings.
They do not like the heat, so during the daytime, they hide in the forest areas to hold their energy. In the winter, they are very easy to spot in the state. They can be seen roaming near the city, where the number can reach even a thousand.
During the winter months, you can encounter one almost every day. They will look into windows, walk along sidewalks and you can spot moose poop spread across the yards and sidewalks You can also spot moose in Alaska in Talkeetna, Fairbanks, Palmer, Denali National Park, and even Downton Anchorage!
How Big Are Moose In Alaska?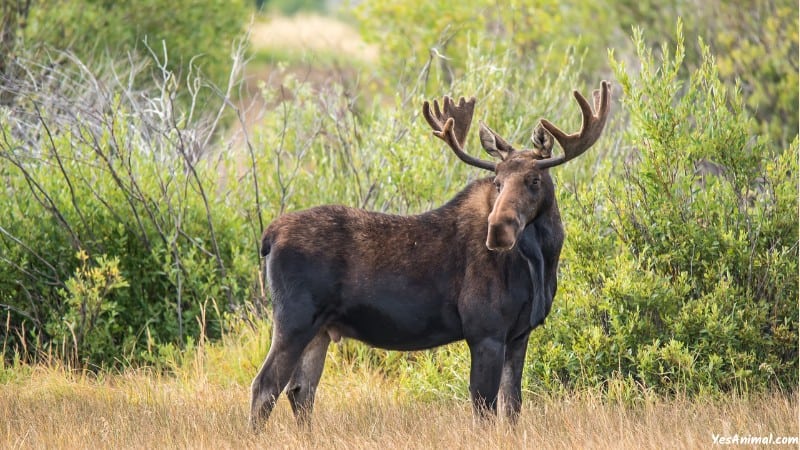 Moose in Alaska are sexually dimorphic with females being 40% less in weight when compared to males. Male moose can reach a height of 6.9 ft at the shoulder level, and weigh about 1,400 lb. When moose are born, it weighs around 28 pounds, but when they reach their five-month mark they can go up to 280 pounds.
Female moose in Alaska can go up to a height of 5.9 ft at the shoulder levels and weigh about 1,054 lb. Their antlers span about 5.9 ft, however, the conformation and size are majorly affected by nutrition, genetics, and age. Their antlers exhibit a social rank among the species and influence the mating success rate.
What Are Moose Called In Alaska?
The Alaska-Yukon moose race in Alaska is called the Alces alces (Alces alces gigas).
Also Check Our Guide On Moose In America
What Do Moose In Alaska Eat?
You might be impressed by how a moose can get to such an extraordinary size just through their diet. This is because they are geniuses in survival and can discover nutrition, even in the least quantities. In the winter, they munch only on frozen bushes and dry twigs. Moose in Alaska tend to eat whatever is on their way.
They eat grasses, leaves, weeds, twigs, and fruit. They munch on them constantly while walking near the neighborhoods. Sometimes, they can also be seen with their heads underwater, eating the greens that grow from the base.
This is because moose can catch their breath for more than a minute, and nature has fitted their nose with a remarkable mechanism that controls water from infiltrating their nostrils.
It is no surprise that moose chew up on anything and they eat around 50 pounds of food every day to maintain their exceptional size. Also, their sharp teeth and tough gums them to easily break sticks.
Are Moose Bigger In Alaska Or Canada?
The Alaska Yukon Moose is the biggest subspecies and of any antlered competition. They are heavyweights and are true giants. Whereas the Canada moose is a subspecies of the deer.
They are exceeded in height solely by the Alaska-Yukon moose species. The Western Canadian moose also have huge and massive antlers. But the Alaska Yukon Moose grows the biggest antlers.
Can You Hunt Moose In Alaska?
Yes, you can hunt moose in Alaska. They are mostly hunted for sport and food annually during winter and fall in the state. You can use both bows and firearms to hunt moose in Alaska. Hunters must buy their own charter flight, a tag for $800, a license for $170, and also a fishing license for $50.
Also, the hunter must ship the game animal back to the state which costs about $500 per animal. As a basic cost, you can anticipate around $9,000 to $14,000 for a self-guided hunt that incorporates charter flights, rafts, and camp gear.
Can You Eat Moose Meat In Alaska?
Yes, you can eat moose in Alaska. However, they can not be sold in restaurants or in grocery stores like beef. This is because they are wild game animals and in Alaska, it is illegal to sell gaming animals. People in Alaska do consider moose a crucial part of their yearly supply of food. Thus all the hunted moose are caught just for eating its meat.
Also Check Our Guide On Moose In Yellowstone
Can You Ride A Moose In Alaska?
No, you cannot ride a moose in Alaska. This is because they become aggressive if provoked, so it is necessary to respect their space. So, never approach one!
Conclusion
And that was everything you need to know about the Moose In Alaska. I hope this article answered all your queries.
Thank You For Reading!
Our Source For This Guide
Founder Of This Website
I'm a passionate animal lover and researcher, I've created this website so that people can learn about the size and characteristics of different animal species. My goal is to educate and inspire people to appreciate the diversity of our planet's wildlife.