When it comes to hunting opportunities in the country, there are only a few states other than Montana that provide ample opportunity and support to hunters.
Before we get on with the procedure to hunt elk, I've explained everything you need to know about the presence of these majestic Elks In Montana, where you could typically spot them, etc.
Are There Any Elk in Montana?
Yes, Montana is home to a large population of elk. In fact, the state is also known as the "Elk hunting capital of the world." These creatures prefer to inhabit the woody regions of the state including national forests and wilderness areas.
As the state is home to a variety of landscapes all suitable for elk, these resilient creatures have been thriving. These majestic creatures occupy the bottom parts of the food triangle and therefore affect not only the population of predators but also the habitat they are in.
Therefore, the population control and monitoring of elk in Montana is an important task that would aim in conserving both the state's wildlife and flora.
How Many Elk Are in Montana?
As per Montana Fish, Wildlife, and Parks Department, there are about 170,000 elks living in the state. In fact, Montana has one of the highest populations of elk in the world. The state leverages this high population of elk to organize various recreational activities like hunting seasons and elk viewing spots.
It's important to note that the elk population in Montana is not distributed evenly and is sensitive to weather, predator density in their habitat, and human influences. It also tends to change based on the time of the year. In summer they occupy the higher elevation areas whereas in winter they migrate to lower regions to escape the cold and find some vegetation to fill their stomach.
What elk species is in Montana?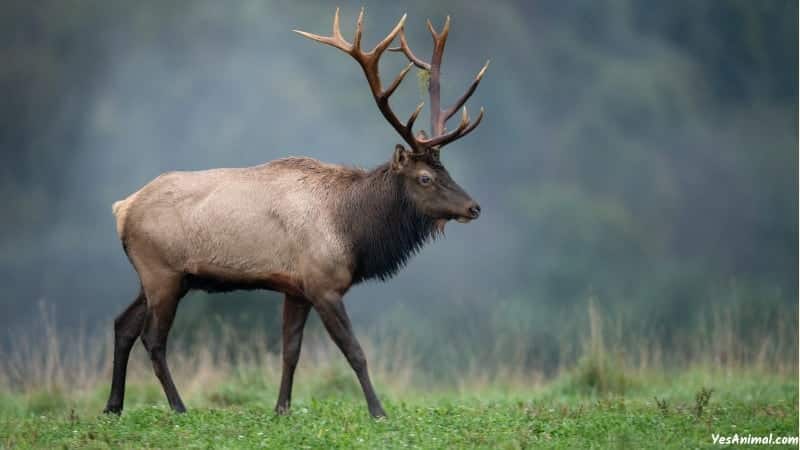 Rocky Mountain elk is the subspecies of elk found in Montana. Also called American elk, these creatures are one of the largest terrestrial mammals and just the second largest deer species in the world just after moose. With a set of two large antlers, they give tough competition to even the mightiest predators in the world.
Also Read About Elk In Kentucky
Where Can I See Elk in Montana?
Unlike other states of the country, elk in Montana is found throughout its landscapes. From national parks such as Yellowstone National Park, and Glacier National Park to private ranches, there are only in fact a few regions without the presence of elk in the state.
The national forests are managed by state officials and the federal government. They not only help in conserving the elk population but also provide an opportunity to view these creatures in their natural habitat. But be it national parks or private ranches, there may be some fees to avail of these experiences.
Best Time to See Elk in Montana
Like in most other states with elk populations, the best time to see them is during the rut or mating season. Because this is when they are most active and move about in search of suitable mates.
You can typically sight them in the northern range of the state including Madison River, Mammoth Hot Springs, Gardiner, and south of Jackson Hole Elk Refuge. Additionally, to improve the chances, do visit these places during dawn and dusk when elk are active throughout the year.
What County Are Elk in Montana?
Montana is one of the only few states in the country to host elk in almost all of its counties. But most of the population is distributed in Missoula County, Gallatin County, Park County, Madison County, and Lewis and Clark County.
How many elk are killed in Montana every year?
Montana Fish, Wildlife, and Park Department consistently controls, monitors, and conserves the population of elk found in the state. Additionally, the harvested population of elk is recorded every season at the district level.
As per the harvest reports on the department's website, hundreds of elk are harvested in each of the districts every year. This is huge as the number of districts in the state is in the hundreds.
So, approximately you could guess that each year about 20,000 to 30,000 elk are harvested in the state. This is in fact important to control the growing population of elk in the state, provide recreational activities for the residents, and also provide an opportunity for hunters to hone their skills.
Can You Hunt & Shoot Elk in Montana?
Yes, People can legally hunt elk in Montana. In fact, hunting of elk is one of the most famous and sought out activities by the state residents. To hunt one, you need to obtain an elk hunting license from the Montana Fish and Wildlife Department.
There are various licenses available, and you can choose one based on your requirements and your preference. But each costs anywhere between $9 to $30 for residents. But no matter the type of license, it is only issued if your name is drawn in the lottery process.
In general, these hunting seasons are organized during the fall and winter seasons of the year, when elk are both active and can be easily distinguished from vegetation in their habitat.
Also Check Our Guide On Elk In America
Can a non-resident hunt elk in Montana?
Yes, Even a non-resident can hunt and shoot elk in the state. In fact, Montana is one of the few states that allow non-residents to hunt elk. Montana's Department of Fish, Wildlife and Park offers a number of licenses for non-residents to hunt and kill elk. Note that each of these is costlier than those for the residents costing anywhere between $275 to $1,018.
Similar to residents, even non-residents need to apply in the lottery system, and once their name is drawn, the hunters need to follow the regulations set up by the department to have a hassle-free hunting season.
Conclusion
And that was everything you need to know about the Elk In Montana. I hope this article answered all your queries.
Thank You For Reading!
Our Source For This Guide
Founder Of This Website
I'm a passionate animal lover and researcher, I've created this website so that people can learn about the size and characteristics of different animal species. My goal is to educate and inspire people to appreciate the diversity of our planet's wildlife.