There are only a few handfuls of animals that can compete with the range elks have in the North American Continent. This fact was much more prominent in the early 1800s. After which, due to European settlement, these creatures because of extensive hunting and loss of habitat were eradicated from the state.
Today, due to efforts by the state wildlife agency, there has been a resurgence of these creatures especially in Minnesota. In fact, the state legislature in 1913 approved $5000 to revive the elk population in Minnesota.
You may wonder, why these creatures are so significant that an exuberant amount of money was used to save them. It's quite simple, really. Elk occupy the bottom of the food chain and help stabilize the population of predators.
Let us now look at the presence of these majestic creatures in Minnesota.
Are There Any Elk in Minnesota?
Fortunately, yes, Except in the northeast region of Minnesota, which is occupied by woodland caribou, elk were once present throughout the state.
Today, after the reintroduction of these creatures in specific regions, they seem to inhabit just the northwestern part of the state. It is important to note that, compared to other states, Minnesota elk's population is still small and requires continuous monitoring and conservation.
How Many Elk Are in Minnesota?
As per various reports, there are about 130 to 150 elk in the state in the wild. These numbers are subjected to change due to changes in the environment, an increase in the presence of predators, and human influence and presence in their habitat. The Minnesota Department of Natural Resources, therefore, carefully monitors the elk population by conducting annual surveys, harvest reports, etc.
What Kind Of Elk Are In Minnesota?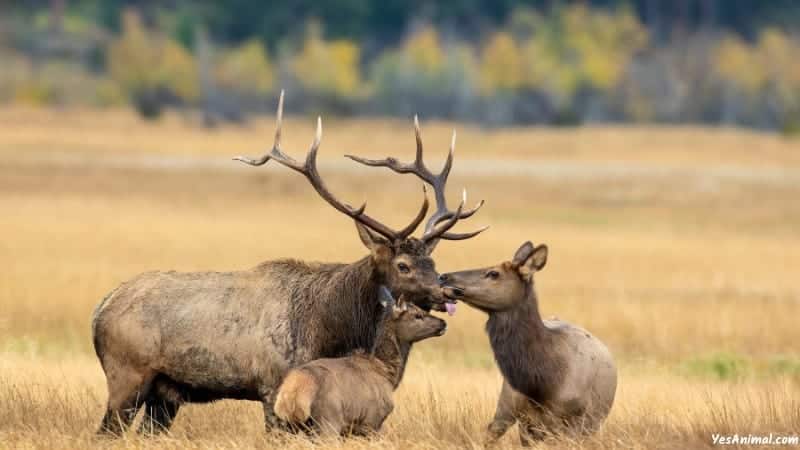 Historically, the state's hardwood forests were home to the Eurasian elk which now is extirpated. And the other parts were inhabited by American elk. During re-introduction, elk from the western states were introduced. These include Rocky Mountain elk which is also a subspecies of American elk.
Note that the elk found in the American continent is Wapiti which in Native American means "white rump". But the elk in Europe are in fact moose which confuses many people especially first-time visitors from Europe.
Also Check Our Guide On Elk In Kansas
Where Can I See Elk in Minnesota?
Today, elk can only be seen in the northwestern parts of the state. As per the Minnesota Department of Natural Resources, there are just about 3 herds of these creatures distributed within north of Grygla and in Roseau and Kittson counties.
The state parks in these regions provide opportunities for wildlife viewing including park trails and observation points. These regions host diverse habitats which also host other wildlife species.
Best Time to See Elk in Minnesota
During the months of September and October, you will often hear the grunting and bugling of elks across their habitats. This is to challenge other bulls for competition for cows and stake out territory.
While they are engrossed in the rutting season, we viewers can easily spot them due to their activities. This is why it is best to see elk during their breeding season. But in terms of management of these species, they are easier to spot during winter due to the white background the snow offers.
Nevertheless, elk are hosted by the state throughout the year, and you could at times spot them in any area given you follow the rules and regulations. Some areas are also designated elk viewing spots. If you do want to increase your elk spotting skill, you better visit these regions during dusk and dawn when these creatures are most active.
Can You Hunt & Shoot Elk in Minnesota?
There are some things that you could only do once in a lifetime. And hunting elk in Minnesota is one of them. Yes, the state does allow the hunting and shooting of elk. But you need to apply for an elk license which is issued through a lottery system. It is very difficult to win a license due to the immense competition.
Also, as the number of elk in the state is less these licenses are limited and vary year by year. Even if you do get lucky enough to be drawn, you cannot participate in the future. So, before you apply, get enough training on hunting, get a relevant hunting license and other requirements as mentioned in the application, and give your best shot at bringing down these majestic creatures. Because if you can't now then you can never.
Can A Non-Resident Hunt Elk In Minnesota?
Yes, Elk hunting in Minnesota is legal for non-residents above 12 years of age, and must own a valid firearm safety card. This is because you are allowed to hunt and shoot elk only with a firearm or bow and arrow.
In the past, there were over-the-counter tags available for non-residents. But now you have to apply for Combination Elk, big game Combos, and Combination Deer licenses. A drawing is conducted to decide who wins and similar to the resident license, this is too once in a lifetime opportunity. So, hunters, use it well.
Also Check Our Guide On Elk In America
Conclusion
And that was everything you need to know about the Elk In Minnesota. I hope this article answered all your queries.
Thank You For Reading!
Our Source For This Guide
Founder Of This Website
I'm a passionate animal lover and researcher, I've created this website so that people can learn about the size and characteristics of different animal species. My goal is to educate and inspire people to appreciate the diversity of our planet's wildlife.