Are There Any Elk In Idaho?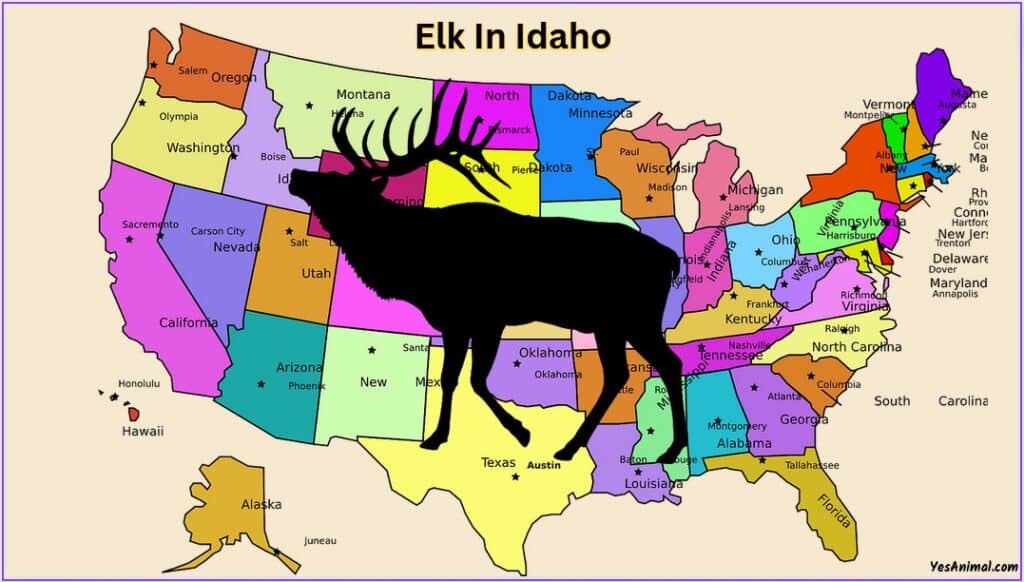 Yes, there are Elk in the State Of Idaho. Historically, elk in Idaho were lower than today. European settlers made many changes to the geography. In southern and central regions of Idaho, severe overgrazing and unregulated harvest resulted in a lesser elk population in the southern. However, the impact was positive for elk populations as wildfires caused shrub fields, and wild habitats for them.
The elk population peaked during the 1960s. But in the 1970s, hunter-harvest access increased to a reduction in the elk population. Thus protection and harvest regulations were implemented, to stabilize the population, particularly in mountain areas where hunting was difficult. Today, the elk population in southern regions is robust.
How Many Elk Are In Idaho?
Today, there are over 120,000 elk living in Idaho. However, the elk populations keep fluctuating, in regards to the weather and food. The Idaho Department of Fish and Game controls the herds within the preferred ranges by modifying hunting numbers and seasons. They also work with private landowners to make sure the presence of high-quality elk habitat all over the state
Where Can I See Elk In Idaho?
Elk are the most iconic and common animals found in Idaho. They are living all over the state and have the biggest elk population in the nation. Here are a few places to visit to watch elk in Idaho:
Lolo National Forest and Selway
This area in the northern region of Idaho is known for its large elk populations. Visitors can spot them grazing in fields or crossing creeks. The National Forest also houses many other wildlife, including coyotes, black bears, and mountain lions.
This area in Idaho is home to elk and other iconic species of wildlife in the U.S. The park is known for its unparalleled and breathtaking natural beauty and is a famous spot for camping, hiking, and wildlife watching.
Located in the southwestern region of Idaho, the area is home to a big elk population that can be seen roaming in the huge grasslands in the evenings. Visitors can also see golden eagles and bighorn sheep.
This wilderness region in the central region of Idaho is popular for its huge population of elk that frequently forage the region looking for their next feast. The river running in the region is a great spot for elks as they like vegetation near them.
Best Time To See Elk In Idaho?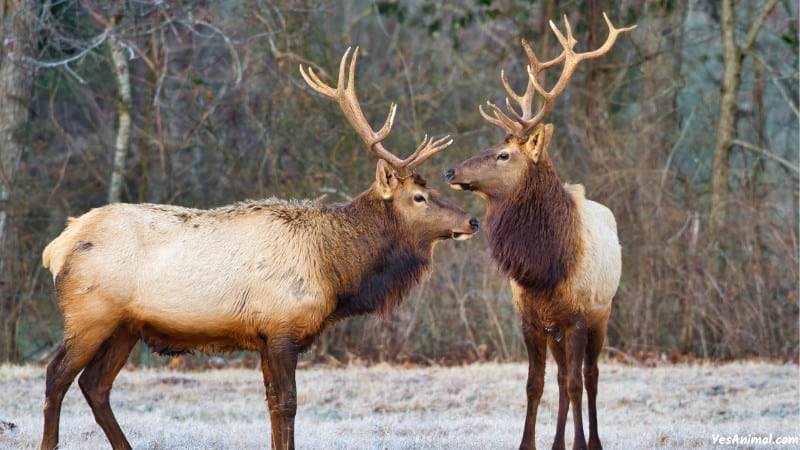 In fall, which is the elk mating season, you can often see bull elk at the forest edge battling with other males for their rights. In colder months, they look for warmer shelter in lower-elevation areas or thick forests that has good cover and food.
In the spring and summer when the weather is warm and food is plentiful, they move to the meadows to graze on planted grasses.
The best time to view elk is during the elk mating season which usually is from September to October. During this time you can hear them bugling, in a unique vocalization used to lure mates and establish authority.
Also Read About Elks In Estes Park
What County Are Elk In Idaho?
Twin Falls and Owyhee Counties in Idaho, have the biggest elk population in the state as they are a part of the Elk Mountains which are a region in the Great Basin Ranges.
Can You Hunt & Shoot Elk In Idaho?
An excellent variety of elk hunting opportunities are available in Idaho due to the state's diverse habitats and elk population. Elk hunters can hunt bulls in the sagebrush deserts, central Idaho mountains, and timbered ridges of northern Idaho.
The present Idaho strategy offers over-the-counter tag options that allow annual opportunities for people to hunt together. There are mature bull opportunities also available but in controlled hunt regions. The elk hunting is organized in 28 elk units with a 2-tag plan in most zones.
A & B tags are issues, 'A tags' give opportunity for archery and muzzleloader hunters, whereas 'B tags' give opportunity for rifle hunters. Hunters can choose only one zone and one tag.
Can a non-resident hunt elk in Idaho?
In Idaho, non-residents of the state can also hunt except for a nonresident junior. There are tons of hunting options all over the state as the elk population in the state is doing great. For a non-resident to hunt in the state would cost about $651.75 for the species-specific tag.
Also Read About Elks In America
Conclusion
And that was everything you need to know about the Elk In Idaho. I hope this article answered all your queries.
Thank You For Reading!
Our Source For This Guide
Founder Of This Website
I'm a passionate animal lover and researcher, I've created this website so that people can learn about the size and characteristics of different animal species. My goal is to educate and inspire people to appreciate the diversity of our planet's wildlife.