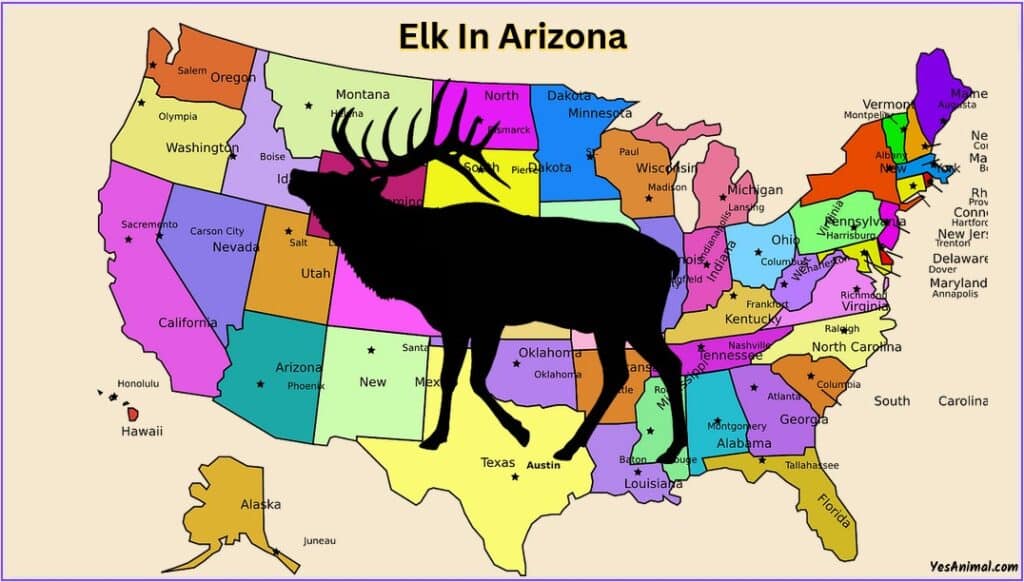 Though Arizona is believed to as a desert state, it has a wide variety of environments that help wildlife to sustain itself in the state, and one among them is — The Elk.
Below In this article, I've explained everything you need to know about the elk in Arizona, how they reach the state and what are the elk hunting opportunities in Arizona.
Are There Any Elk In Arizona?
Yes, there are Elks in the State of Arizona. Prior to European settlement in North America, there were more than 10 million elk roaming all over the continent except the Southern coastal plains and the Great Basin Desert. Due to the expansion of land and hunting, the total elk population dwindled to less than 40,000. Most of them were found only in the Yellowstone Park region.
With proper restoration efforts, today, elk are inhabited in forested regions at high altitudes where there is plenty of water and food sources nearby. Their regular habitats are the White Mountains region, the Kaibab Forest, and the Mogollon Rim.
How Many Elk Are In Arizona?
Arizona's present population of elk is from the Yellowstone National Park population. From 1912 to 1967, around 14,000 elk were moved to various Western regions. In the year 1913, over 80 elk were moved to Cabin Draw around Chevlon Creek, which is unit 4A. In the mid-80s, Arizona's elk population burst, increasing exponentially.
In the 1990s, the elk population grew to an evaluated 60,000 animals. However, that number was confirmed to be more than the carrying capacity of the elk population in the state, and thus herd was shortened. Presently, the state's elk population is about 35,000 animals.
Are there elk in Flagstaff Arizona?
Flagstaff's diverse landscape which comprises excellent habitat and grassland makes it perfect for a vast variety of animals including elk. You can go out on the trails, do not be surprised when you meet an elk.
How did elk get into Arizona?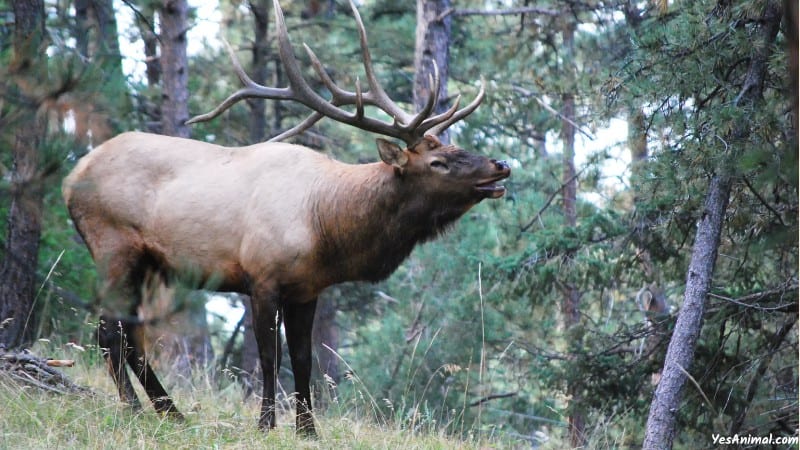 In the year 1913, from Yellowstone 83 elk were moved to Arizona around the Chevelon Lake located in the White Mountains area. The elk were transported in crates and brought by wagon and train. In the year 1927, another transportation from Yellowstone reached Holbrook, on the train. 27 of them moved to Springerville and the rest were sent to Williams.
However, with the opposing local stockmen, the elk were released in Kingman and the Hualapai Mountains. Likewise, the Springerville elk taken on trucks on snowy roads were reluctantly released in Campbell Blue Creek, which is located south of Alpine.
Biggest elk in Arizona
The biggest and record-breaking elk that has symmetrical antlers, ever caught in Arizona was hunted in the year 1968, by Alonzo Winters. It scored 442 5/8″. However, non-regular elk scoring that has asymmetrical antlers caught in Arizona was measured at 450 6/8″, in 1998, by Alan D. Hamberlin.
Where Can I See Elk In Arizona?
Though elk are shy, with the expansion of land into their habitats, you can see them grazing within neighborhoods. When driving through forested areas, you can be on the watch for elk. Annually there are plenty of incidents of elk leaping onto freeways and roads.
Elk mostly live in the pinyon-juniper and ponderosa pine forests that are situated on the South edge of the Grand Canyon National Park. The Fool Hollow Lake location is located right in the center of wonderful elevated-country elk habitat and is also excellent for park-goers and campers who are looking for an outstanding elk experience!
What Is The Best Time To See Elk In Arizona?
The best time to see elk is just when the calves are born in June. Also, during the mating season that takes place from September to October. As they are vocal animals, during spring and summer you can hear them communicating using high-pitched mew. In the mating season, you can hear bulls making a powerful sound known as "bugle" which is used to attract female elk.
What County Are Elk In Arizona?
In Arizona, elk herds are commonly seen in Coconino, Gila, and Navajo Counties. This is the biggest county among them in the state that is home to more than 20% of the elk population in Arizona is in the Coconino county.
Navajo County is also home to a huge population as it has a warm climate with a suitable habitat that is good for elk to live in the county. Gila County has the Black River, and elk can be seen along the 114 miles long stretch. Also, south of Greer in Apache County near the southeastern region, also has quite a big elk population.
Can You Hunt & Shoot Elk In Arizona?
An elk hunting in Arizona is restricted to a draw hunt. The participating hunter will get randomized to get one for an application. Arizona has two different rifle and archery seasons in most of the hunting divisions. They are done from September to December. The hunting season starts in mid-September for archery season lasting for two weeks.
Another season option is the bull season which follows the archery season, where you can either use a muzzleloader or any weapon. The late bull and archery seasons are in November and are kept for obvious reasons, such as climate and bulls being harder to find.
Applicants must pay a non-refundable fee of $15 for each species in the application and a license fee if they do not have one. For a resident, it would cost around $135, and for a non-resident, it would cost around $650.
Also Check Our Guide On Elks In America
Conclusion
And that was everything you need to know about the Elk in Arizona. I hope this article answered all your queries.
Thank You For Reading!
Our Source For This Guide
Founder Of This Website
I'm a passionate animal lover and researcher, I've created this website so that people can learn about the size and characteristics of different animal species. My goal is to educate and inspire people to appreciate the diversity of our planet's wildlife.