Are There Any Elk In America?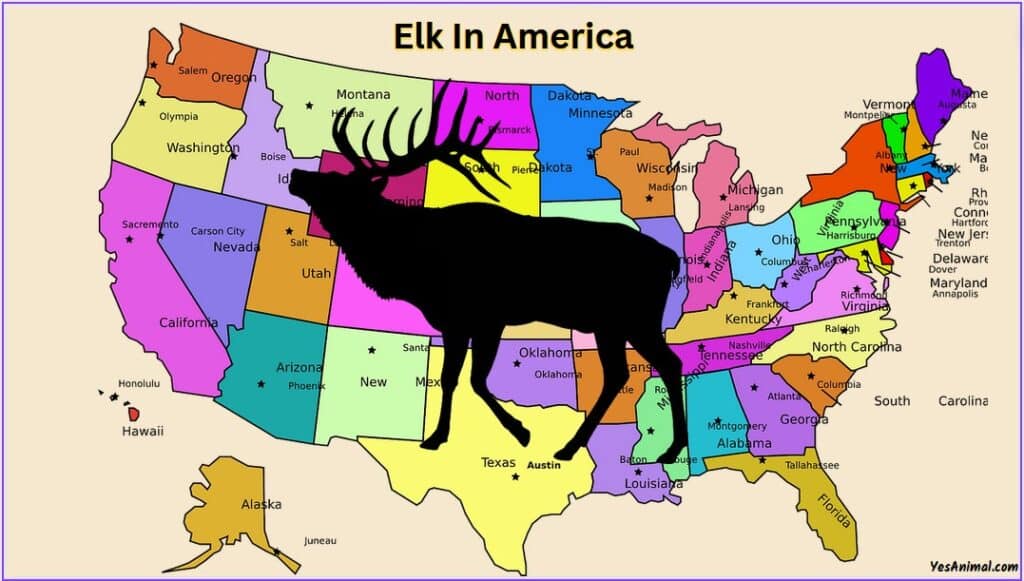 Yes, there are Elks in the United States Of America. Elk were once seen all over North America however they were hunted and driven to move as a refuge to more remote places.
Today they are primarily found in western regions of North America, particularly in mountainous terrains like Yellowstone National Park and Wyoming's National Elk Refuge. A few eastern regions of the U.S. states also have small reintroduced elk populations in heavily forested wilderness regions.
How Many Elk Are In America?
There are presently four elk subspecies in the U.S., and the total population of the elk is estimated to be anywhere from 1 to 1.2 million. The Elk population in the west and east varies significantly. Of these 19 states presently do not maintain breeding elk populations, though a few might let elk be bred on private farms.
The elk population has been increasing and growing in the nation which indicates that there is a possibility of them moving to the neighboring states. A few of these states have implemented reintroduction projects, so a few of them might have breeding elk inhabitants in the future. There are considered to be breeding elk inhabitants in the rest 31 U.S. states.
What is an American elk called?
In America, elk are called "wapiti", which the word implies "light-colored deer" in the Native American language.
Where Can I See Elk In America?
Here are a few places in the country to experience elk.
​Wyoming – National Elk Refuge
If looking for a winter getaway, then the National Elk Refuge should be your top bet. Home to the largest elk population, this refuge has more than 7,500. Elk from nearby areas flock to this grassy lower elevation of Teton County for milder weather after autumn. You can view these free-roaming elk populations in a wild habitat. You can also go on tours, including horse-drawn sleighs.
Montana – Yellowstone National Park
Elk is the most abundant animal in the park. The park is home to over seven herds and a population of over 20,000 elk. The expansive park provides its visitors with a good chance to watch these majestic animals in their wild habitat.
Note that they are migratory animals and will roam in the park only in warmer months and might move to milder regions during winter. If visiting during colder months, then go to the northern border in southern Montana.
Colorado – Rocky Mountain National Park
Opportunities to spot the heard on the west and east regions of the park is abundant. You can look for them even in Estes Park, Moraine Park, Upper Beaver Meadows, and Horseshoe Park are a few of the places to spot elk in the region.
Moraine Park has roads looking at the meadows visited by elk, and the peak. As it is a popular spot and the most frequently visited one it can be very busy. So, you can check out Upper Beaver Park and Horseshoe Park.
Kentucky – Breathitt and Surrounding Counties
Many think of open meadows encircled by mountains, but with more than 10,000 elk, Kentucky has the biggest herd in the east. Kentucky is the best state for Americans residing in the east of the nation to view elk in their natural habitat. In the southeastern region, with more than 16 counties the state has many wildlife regions and forest areas to view Kentucky's elk herd.
Different Types of Elk in America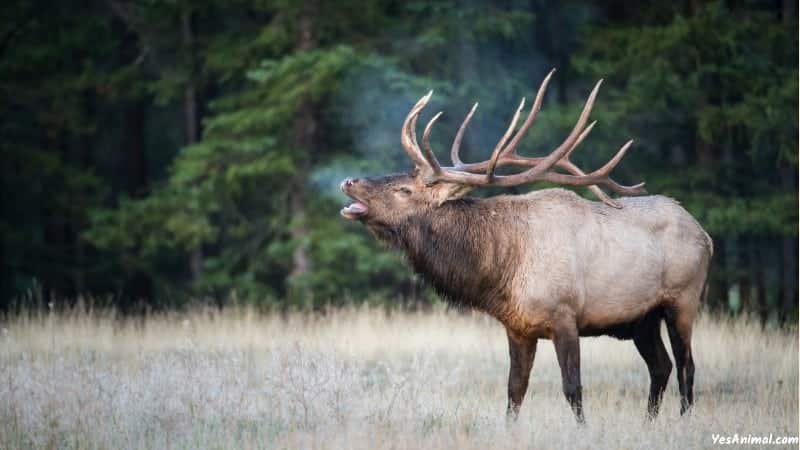 Here is the list of elk species in the nation.
This species is currently found throughout Oregon, Washington, and California. They mainly feed on ferns, shrubs, lichens, and grass, which are prevailing in temperate climates and rainforest regions. A single bull can weigh about a ton. They are mostly found in the Hoh Rain Forest area and are known as the Olympic elk.
They are the smallest of the species that are seen roaming freely. They are mostly found in California, on Grizzly Island. Tule elk are from hereditary breeding thus resulting in a lack of genetics introduced into them. They are more vulnerable to health issues and diseases. This is why they stay in California. Their diet includes herbs, or forbs that are flowering plants and not grass.
About 1 million American Elk are found in the US, with the majority living in the Western regions. They are very good swimmers that can cross rivers easily and also quick runners with speeds of 35 mph. Their diet consists of vegetation and grass. These huge animals have pointed claws, which help in digging snowpacks.
They live in the Rocky Mountain region and canyons of the nation. These species have the biggest antlers. Also, though they are Rocky Mountain elk, they are found only on the Western side of the region. They weigh about 700 pounds and their antlers weigh around 40 pounds. They have a similar diet when compared to other elks, including shrubs, tree bark, and grasses.
What Time of year is Elk in America?
September and October are the elk months in the nation to view them. During these months elk herds gather in the lower elevation regions for their fall mating season known as "rut." during this season you can hear bulls bulge and female elk with their young ones.
What Do Elk Eat In America?
Elk like foraging on sedges, grasses, herbs, trees, shrubs, and bark. Their diet and nutrition techniques consist of selective feeding manners and dietary moldability relying on what food sources are available.
In summer when there is more plant growth, they feed on green vegetation like grass, forbs, legumes, and woody plants. In winter they will entirely browse on bark or twigs from trees and shrubs. The area where they live plays an important role as their diet can include lichens, mushrooms, and crops. They can be seen even munching on berries in late summer and autumn.
Can You Hunt & Shoot Elk In America?
Yes, you can hunt elk in the US, but not all states allow you to hunt elk within their boundaries. A few states in which you can hunt elk are Colorado, Wyoming, Montana, Idaho, Arizona, Oregon, New Mexico, and Pennsylvania.
Can you eat elk in the US?
Yes, you can eat elk in the US, but not all states allow you to do that within their boundaries. A few states allow you to eat the ones that have been hunted or road-killed whereas a few other states allow you to eat the farmed elk.
Read About U.S. States Elk Species
Conclusion
And that was everything you need to know about the Elk In America. I hope this article answered all your queries.
Thank You For Reading!
Our Source For This Guide
Founder Of This Website
I'm a passionate animal lover and researcher, I've created this website so that people can learn about the size and characteristics of different animal species. My goal is to educate and inspire people to appreciate the diversity of our planet's wildlife.