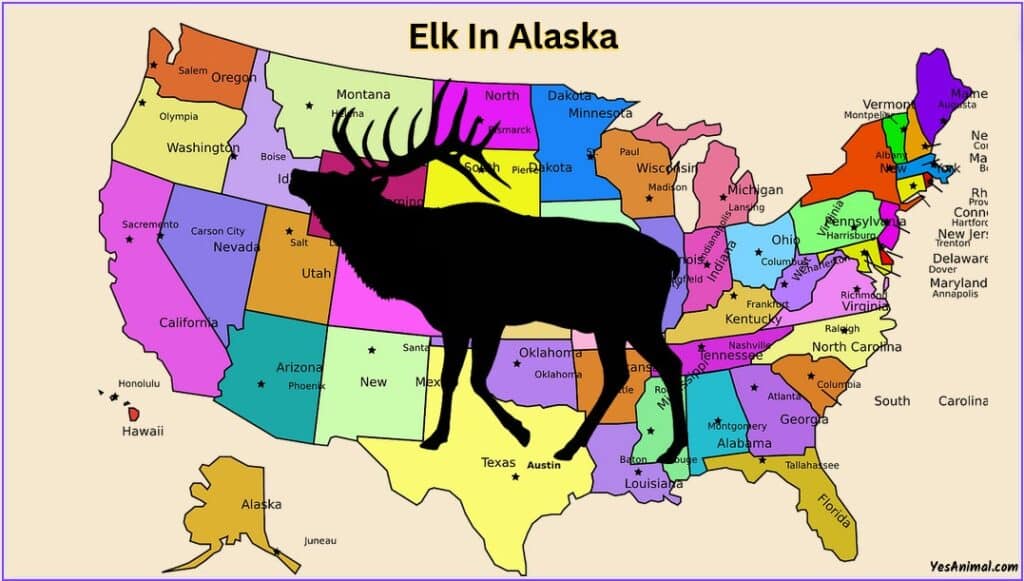 There is no state in the country or a place in the world that boasts the number of unique animals as Alaska. And the state is not new to the elks either. But are these creatures present in the state of Alaska?
Below I've explained everything you need to know about the elk in Alaska.
Are There Any Elk in Alaska?
Yes, there are elks in the state of Alaska. Did you know that the last elk in Alaska's interior region were found in the Pleistocene era and died about thousands of years ago?
This fact came up through fossil findings from various regions of Alaska. Currently, you can find a few small herds of elk in island habitats with maritime and temperate climates that are much more suitable to elk than the cold weather that can be seen in many parts of interior Alaska.
How Many Elk Are in Alaska?
Now that we have established elk's presence, its now time to know about their population numbers. As per recent estimates, there are about 1300 elk in the islands of the state namely 900 on Raspberry and 400 in other islands.
Also, did you know the elks were actually introduced in other islands and they in no time migrated into Raspberry Island?! Yes, That's the magic of wildlife and suitable habitats. And thanks to this, many elks have also migrated to other islands nearby.
Where Can I See Elk in Alaska?
Historically, elk are not native to Alaska for thousands of years. But thanks to the conservative measures taken up by the state, a few small populations of elk from Washington and Oregon have been introduced into the islands of Alaska. And today, you can find them on Afognak Island, Raspberry Island, Kodiak Island, and many small southeast Alaskan islands.
What Time Of Year Are Elk In Alaska?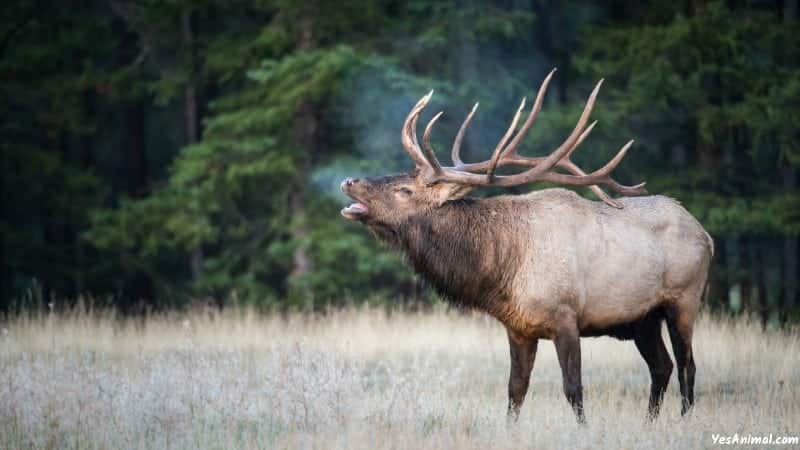 Elk live throughout the year in the islands of Alaska. They move towards higher lands during summer and lower lands during winter. So, it depends on where and when you are looking for them.
Typically, the best time to view elk in Alaska is during summer and spring when the flora has all bloomed, rivers are rushing and, in that backdrop, you have these majestic elks. They form a spectacular, awe-inspiring picture.
Also Check Our Guide On Elk In Yellowstone
What Is The Largest Elk In Alaska?
First, we need to look into the types of elks found in the state. As the re-introduced population of elk are from Oregon and Washington, there are two subspecies of elk in Alaska, particularly in the islands of Alaska.
One is the Roosevelt elk and the other is the Rocky Mountain elk. Out of these, Roosevelt elk is the largest and is found especially on Afognak Island. To differentiate between these subspecies, just look at their skin color and antlers. In addition to size, Roosevelt elk are darker and have thicker and shorter antlers than the Rocky Mountain elks.
Can You Hunt & Shoot Elk in Alaska?
Yes, you can hunt and shoot elk in Alaska. The elk in the southeast Alaska islands are managed by the Alaska Department of Fish and Game and the elk hunting is managed on a drawing permit basis.
But to hunt, you need to obtain an elk hunting license which you can apply online in the Alaska Department of Fish and Game. After you have obtained the license, you need to additionally purchase a big game tag for elk.
Typically, Alaska has two elk hunting seasons, one in summer and the other in winter. In summer, the hunting season runs from 1st July to 31st August and in winter, the hunting season runs from 1st December to 31st March.
Can a non-resident hunt elk in Alaska?
Yes, Even as a non-resident, you can hunt elk in Alaska. To do so, you need to obtain a non-resident hunting license and a big animal tag for the elk. Note that the fee for non-residents is exuberant at about $150. So, don't fail to participate in the hunt if you do get selected.
Also, sometimes, it's better to be accompanied by an elk hunting guide while you are in the game, especially if you are a non-resident. So, take one of them along. They may help you spot and may provide you with some skills to hunt them as well.
Also Check Our Guide On Elk In America
Can you raise Elk in Alaska?
Yes, you can raise elk in Alaska as elk farming is legal in the state. It's important to note that elk farming is regulated by the state's Department of Environmental Conservation which sets rules and regulations to harvest these creatures.
But before you obtain the relevant license and permits, see to it that you have the relevant land available for these creatures as they are by nature grazers and need ample land to live on. Additionally, you may have to incur some costs in order to provide fencing for protection and medical care when required.
Conclusion
And that was everything you need to know about the Elk In Alaska. I hope this article answered all your queries.
Thank You For Reading!
Our Source For This Guide
Founder Of This Website
I'm a passionate animal lover and researcher, I've created this website so that people can learn about the size and characteristics of different animal species. My goal is to educate and inspire people to appreciate the diversity of our planet's wildlife.