Are There Any Dolphins In Orlando?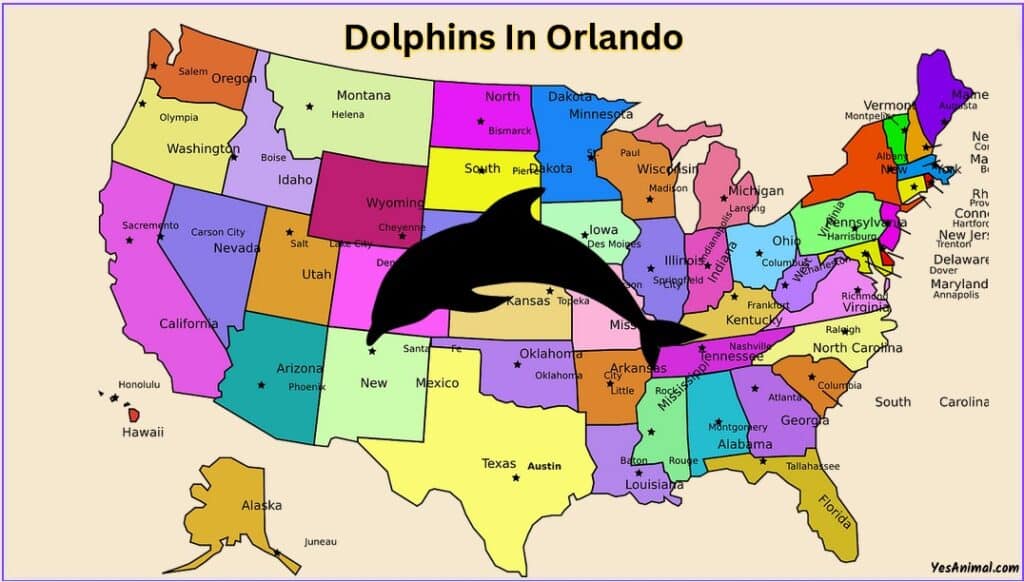 Though, Florida is frequently associated with manatees; as it is home to thousands of wild dolphins, Orlando is not. Dolphins can be seen only in captivity and there are no dolphins in the wild, as the city is landlocked, in the middle of the state. As it is quite far away from the natural habitat of dolphins live.
In Orlando, dolphins can be seen only in captivity. There are many theme parks and other attractions including SeaWorld, Orlando that features many marine animals including dolphins. These dolphins are mostly kept in closed environments for educational purposes and interactive experiences. So, though there are no wild dolphins in Orlando, you can find a few in captivity.
What Kind Of Dolphins Live In Orlando?
The Atlantic bottlenose dolphin is the wildly found dolphin species in Orlando. This is because the marine mammal is very familiar with the wide exposure it obtains in captivity in dolphinariums, marine parks, television programs, and movies.
It is the largest among the beaked dolphins. It inhabits tropical and temperate seas throughout the world. They are gray, between 6.6 to 13.1 feet long, and weigh 330 to 1,430 lbs. Males are bigger and heavier than females. Its diet consists of squid, eels, shrimp, and a variety of small fishes. It does not nibble on its food, rather just swallows it.
These pods work together to harvest fish, though they hunt separately. The diet of can vary depending on the location, in the Atlantic coast, their main prey are Atlantic croakers, spot, and American silver perch.
How Many Dolphins Are In Orlando?
Bottlenose dolphins which are very the most popular in Florida waters are estimated to be over 7,000 individuals in near-shore by the gulf coast of Florida. In Seaworld Orlando, it is said that there are over 150 dolphins kept at the park for visitors to experience first-hand interactions. However, the exact number of these species present in the city is not available.
Does SeaWorld Orlando still have Dolphins?
Yes, there are dolphins in SeaWorld in Orlando, Florida. The most commonly found species is the Atlantic bottlenose dolphin.
SeaWorld has over 140 of these highly brilliant marine animals in its tanks. You can discover much more about their story, in the fascinating presentation done at Dolphin Stadium. Also, get to explore their natural traits and behaviors, and how they have evolved to enable them to survive and flourish.
Dolphin Cove in SeaWorld is a dolphin attraction, that holds up to 700,000 US gallons of water. It is designed to mirror the natural ecosystem with an aquatic viewing spot for visitors to watch the dolphins and listen to dolphins' communications.
The Dolphin Cove habitat is the biggest dolphin pool, for visitors to interact with the dolphins. It features 2-foot waves, an imitation coral reef, and a sandy beach.
Also, Check Our Guide On Dolphins In Hawaii
How much does it cost to swim with dolphins in Orlando Florida?
In SeaWorld, in Orlando, you can participate in the training sessions in the Dolphin Encounter and Dolphins Up-Close Tour to get in touch with dolphins while touching them.
Here you can come face-to-face with these most playful ocean ambassadors through this hands-on tour. You even get your picture when feeding and touching dolphins. For more hands-on interaction with the dolphin family, you can get the help of expert care specialists. Then, get to practice what you learned by asking a dolphin to do a few behaviors.
Next on the list is Dolphin Lagoon in Dolphin Cove, where you can close to bottlenose dolphins. You can become a member of their pod as you swim with dolphins in Orlando, Florida! Animal specialists will guide on the dolphin behaviors, habits, incredible interaction capabilities, and the connections they build with these animals. Then, get to chance to interact with them to learn their personality through conduct.
| | | |
| --- | --- | --- |
| Location | Activity | Price |
| Discovery Cove | Trainer for a Day | $199.00 |
| SeaWorld, Dolphin Cove | Dolphin Encounter | $29.00 |
| SeaWorld, Dolphin Cove | Dolphin Up-Close Tour | $59.00 |
Conclusion
And that was everything you need to know about the Dolphins in Orlando. I hope this article was informative and your queries were answered.
Our Source For This Guide.
Founder Of This Website
I'm a passionate animal lover and researcher, I've created this website so that people can learn about the size and characteristics of different animal species. My goal is to educate and inspire people to appreciate the diversity of our planet's wildlife.