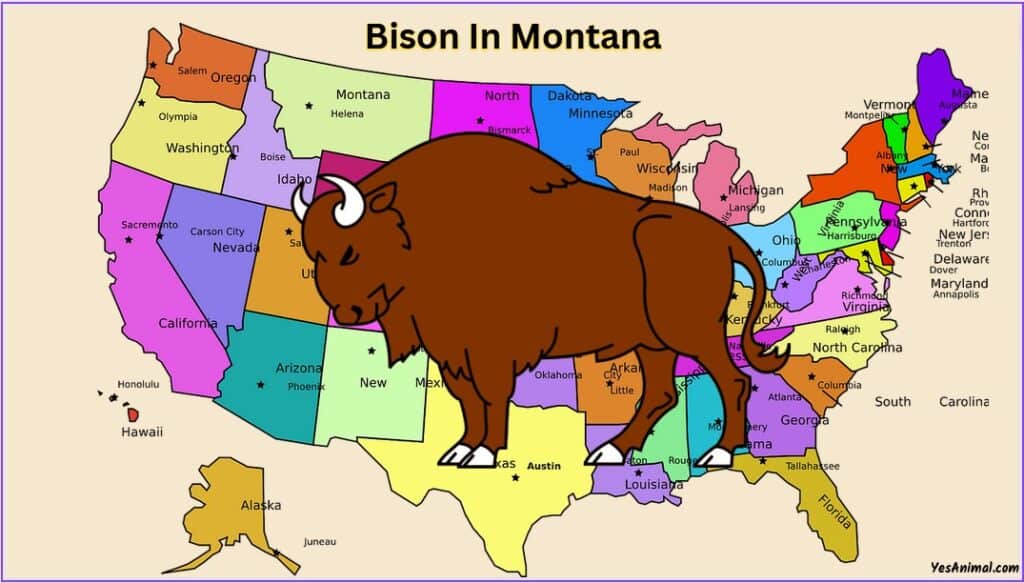 Bison has been an iconic symbol of North America. This is most evident in the U.S., where these magnificent species have wandered for about a thousand years. They have played an important role in the nation's ecosystem as they have shaped the landscape and provided habitats for other animals.
But in Montana, the future of bison is not without any challenges as they continue facing threats.
In this article, I've explained everything you need to know about the bison in Montana, their adaptations to habitats, and where you can spot one in the wild.
Are There Bison In Montana?
Bison are the biggest mammal in North America. Bison also flourished all over the state of Montana before the European settlement in the American West where they were keystone animals of the ecosystem of the Great Plains. Following years of substantial habitat, food, and shelter loss, bison were rescued from full extinction by various groups of people.
However, they are currently only limited to particular geographic locations within the area or kept behind barriers. Montana is among the last states places in which bison lived, most notably in the Bison Refuge near Moiese and at Yellowstone National Park.
How Many Bison Are In Montana?
In Montana, these majestic animals have wandered for around a thousand years. Currently, the bison population in the state is estimated to be more than 5,000, as Montana houses the largest bison herds in North America.
Bison in the state move out of Yellowstone National Park in the winter and these activities are more regular and involve more significant numbers of species especially during heavy snow.
At this time the populations are estimated to be more than 3000 individuals. Bison located at the National Bison Range are restricted within the range and no movement is likely to be noted.
Where Can I See Wild Bison In Montana?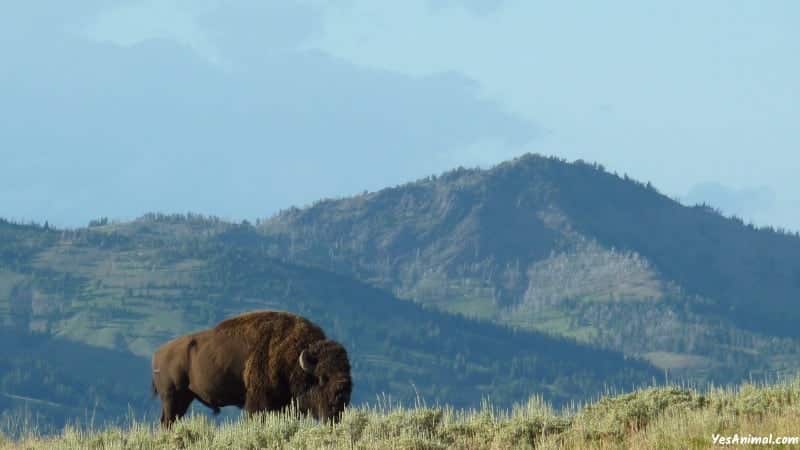 Yellowstone is one of the few places in the state where wild bison has lived continuously ever since the prehistoric era. They are genetically pure and are the descendants of the few bison that stayed in the 1880s after years of extensive slaughter brought them to the verge of extinction. Roughly, about 4,500 bison are roaming freely on the park's expansive geography.
And because of a few wildlife enthusiasts, they have expanded their habitats to a little further out of park boundaries where you can watch them graze.
Another place to see bison in Montana is the National Bison Range in Moiese. It is home to more than 250 bison that roam around the windswept hills. These species are also descendants of the pure Yellowstone bison.
How Big Is The Bison Range In Montana?
Because of limitations, the presently occupied habitats do not reflect the entire natural range for Bison. The bison habitat in the state consists of montane forest and Palouse prairie on the National Bison Range.
The habitat in the Yellowstone Park range is inevitably more elevated with grassland incorporated with forest. Throughout their range, they inhabit open grasslands and plains. Openings and woodlands in boreal forests, river valleys, and meadows, are used by them in the northern regions of their range.
Like other big grazers, they are drawn to burned areas the following growing season. During the Feilding season in northeastern Kansas at the Konza Prairie, they like areas that are burned during the spring.
Summer grazing is focused in big watershed areas overlooked by the warm season. In winter and fall, they graze on both unburned and burned watersheds. But grazes on most intensively in regions with huge scaffolds of cool-season.
Also Read Bison In Indiana
Can You Raise Bison In Montana?
Yes, bison can be raised in Montana by private ranchers for meat. However, bison are not domestic animals and they need different handling methods when compared to other cattle or livestock. Bison become more excitable and nervous in closed areas, which are symptoms of stress.
They are more slower, and calmer when compared to other livestock. They will need huge areas of land that are fenced with stronger and taller pasture fences. One best way to choose the best bison facility is by talking with the Montana bison association.
Can You Hunt Bison In Montana?
Yes, you can hunt bison in Montana. But, a Prerequisite license and Base Hunting License are needed in Montana to apply for a permit for bison hunting in Montana. This permit will is available only through a Special Drawing done by the state. On successful permit acquirement, bison license applicants will obtain a letter with teachings to see online bison hunter directions.
The hunting area is divided into 2 Districts, mainly 385 which is the Gardiner area, and 395 which is the West Yellowstone area. The bison hunting season usually runs from mid-November to mid-February. Any hunter hunting a bison must report their hunted bison within 48 hours to the FWP.
Also Check Our Guide On Bison In America
Conclusion
And that was everything you need to know about the Bison In Montana. I hope this article answered all your queries.
Thank You For Reading!
Our Source For This Guide
Founder Of This Website
I'm a passionate animal lover and researcher, I've created this website so that people can learn about the size and characteristics of different animal species. My goal is to educate and inspire people to appreciate the diversity of our planet's wildlife.