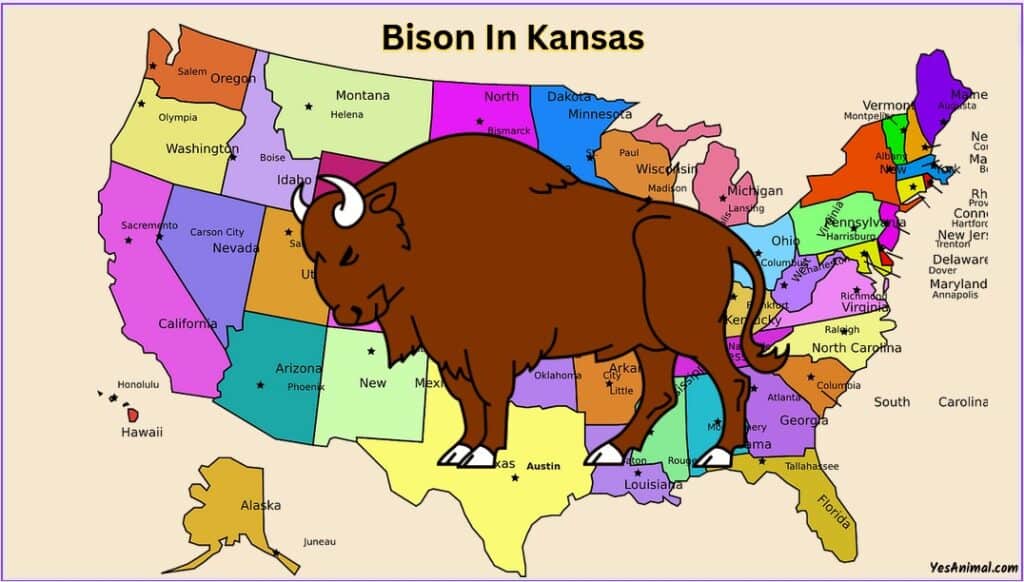 These silent yet unpredictable wild creatures had a historical range from Alaska's grasslands to those in the Gulf of Mexico. They have a shaggy thick winter coat. Yes, we are talking about the majestic creatures of the West, Bisons.
Bison have been living in various parts of the country since prehistoric times including Kansas. In fact, Kansas hosts the fifth-largest population of Bison.
They are a symbol of resilience and have a long history connecting them to the tribals.
Below In this article, I've explained everything you need to know about these beasts.
Are There Bison in Kansas?
Yes and no, there are no wild Bison populations in the state. But once upon a time, the grasslands were filled with herds of Bison. Similar to the other Bison populations, The Kansas Bison were drastically affected by overhunting, diseases, and loss of habitat to farming. By the late 19th century, there were no more Bison in the wild.
The state does have a few herds of Bison in private ranches, or public lands for conservation, research, and educational purposes and that is what has been a redeeming feature.
How Many Bison Are in Kansas?
Thanks to the conservation efforts by private ranches and state agencies, the remaining Bison population is thriving and well-protected in Kansas.
While the precise number of bison is not known, it is supposed to be more than hundreds. This population is varying across the different bison homes from public land to private ranches.
To know about the exact population distribution of Bison in Kansas, contact the Kansas Department of Wildlife, Parks, and Tourism or any local conservation group that focuses on Bison conservation.
Where To See Bison in Kansas?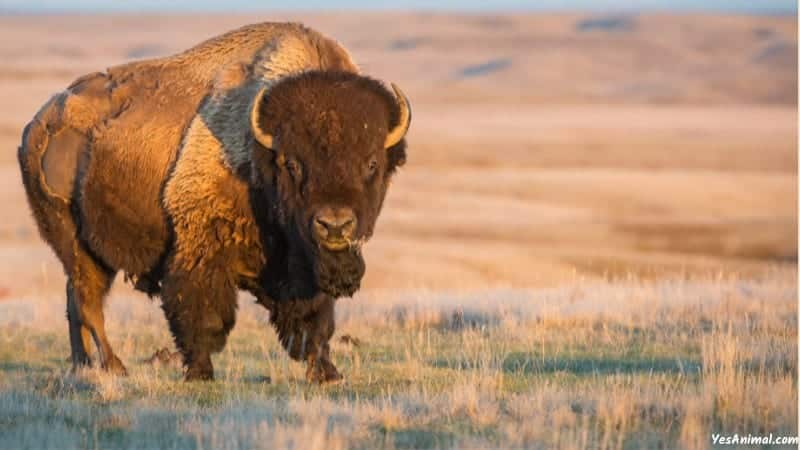 Historically found across the wildlands of Kansas, Bison today are restricted to parks and private ranches. These include Historic Lake Scott State Park, Tallgrass Prairie National Preserve, and the Maxwell Wildlife Refugee which has the largest public heard of Bison in the state.
Can You Hunt Bison in Kansas?
Yes, you can hunt Bison in Kansas. Specialized farms and private ranches offer hunting options for the people. The regulations are set by the private ranches including some state restrictions on bag limit, and hunting season to ensure sustainable hunting.
To hunt a bison in Kansas, you will require a hunting license from the Kansas Department of Wildlife, Parks, and Tourism. Note that these licenses/permits have limited availability. Also, these regulations are expected to constantly vary, therefore have a close look-out for changes in the regulation before committing.
Can You Own Bison in Kansas?
Yes, you can definitely own Bison in Kansas. In fact, which is one of the ways, Bison population is being conserved in the state.
Bison in Kansas is considered as a "non-feral" undulate and can be owned and raised by private ranches, landowners, and public properties. In general, these Bison are acquired from reputed Bison breeders and auctions.
Note that while Bison ownership is legal, it is well regulated and various requirements shall be met prior to owning the animal. These include permits from the Kansas Department of Wildlife, Parks, and Tourism, and other localities. Before owning a Bison herd, make sure to contact these agencies and comply with any and all necessary rules set by them.
Why Is Bison the Kansas State Animal?
In the past, Bison roamed almost all parts of the country, especially in the western states. They were an intricate part of the tribal people's life. From food to shelter, Bison provided materials and sustenance to the tribal people's life.
But soon after the European colonization, Bison were increasingly hunted for fur, meat, and other valuable parts and were pushed to extinction in the late 1800s. Today Bison are found in private ranches and a few public parks.
In recognition of its heritage, and importance throughout the state, Bison was designated as the state animal in 1955. In fact, Bison is also the national mammal of the United States.
Also Check Our Guide On Bison In America
What County Is Called Bison In Kansas?
Imagine how big of an impact Bison must have made in the United States for them to name a city after its name. Yes, there is a city called Bison in Rush County of Kansas. It was platted in 1888 by the Missouri Pacific Railroad and in the same year, the first post office was established in the city.
Initially a small community of farmers, it now includes settlers from other parts of the country, Europe, and even China. The community is small and is known for its rural landscapes.
Conclusion
And that was everything you need to know about the Bison In Kansas. I hope this article answered all your queries.
Thank You For Reading!
Our Goto Source For This Guide
Founder Of This Website
I'm a passionate animal lover and researcher, I've created this website so that people can learn about the size and characteristics of different animal species. My goal is to educate and inspire people to appreciate the diversity of our planet's wildlife.