Florida is well-known for plenty of things. But if I have to guess, I did bet that only a very few people would say bison is one of those specialties. So, what is their status in Florida?
Below In this article, I've explained everything you need to know about the bison in Florida, how they were restored into the state, and if you can own one in the ate of Florida.
Are There Bison In Florida?
Yes, there are bison in Florida. The Paynes Prairie State Park is home to a herd of bison that is located south of Gainesville. It was planned to restore the park into a savanna-like in the late 1700s.
Today the park is situated on 21,000 acres, with various opportunities for, wildlife viewing, hiking, and more. Visitors can visit the prairie to catch a glimpse of the species in Florida. They are big and can weigh a ton, but there is lots of green for them to hide.
How Did Bison Come To Florida?
In the year 1975, the Tallahassee Department of Natural Resources acquired 10 bison from the Oklahoma Wichita Wildlife Refuge and habilitated them to their former habitat on Payne's Prairie Preserve State Park, which is a 22,000-acre land. This was done in a measure to re-establish the population of free-roaming Bison numbers in Florida.
As expected, the herd did extremely satisfactorily, growing substantially in population, to the matter of achieving increased lookout for control of the herd size. Bison adapted well as they like savannas, which is exactly what Paynes Prairie has been for a long time and is.
Also, they are well-equipped to survive harsh weather conditions. Today the herd numbers about 50 animals. Also, since they are very conservative and prefer to avoid humans the Paynes Prairie was a perfect habitat for them to thrive.
When Did Bison Go Extinct In Florida?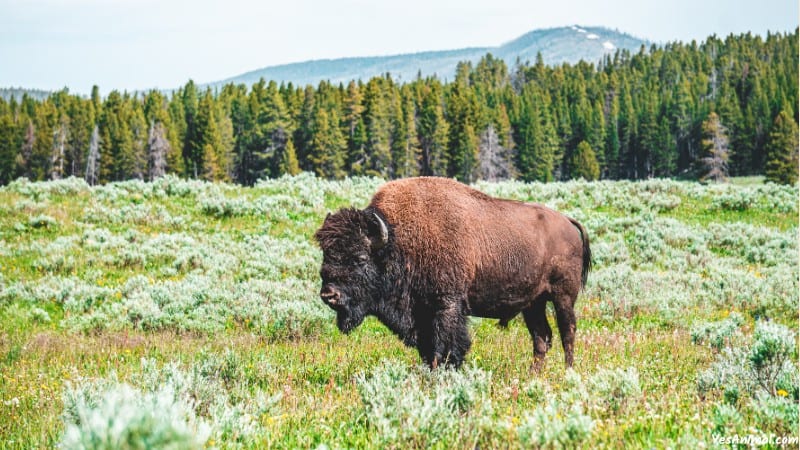 Historically, bison wandered all over the U.S., and their grazing maintained the grasslands and the population diverse and healthy. But hunting them for sport and food, European settlers cleared the land where they roamed for agriculture and livestock, which removed the bison's habitat, leaving them remaining little land.
Also, they played an important role in the lives of the tribes. They were used for food, clothing, and even shelter. All these factors put together made bison extinct in Florida, by the end of the 1770s
Can Bison Survive In Florida?
While we do not tend to relate to bison when we think of Florida's warmth and its clean beaches. But, there are a few things that you must consider before getting to the conclusion. First, though Florida is covered by coastlines, most of the state's land area is distinctly not located near the beach. And one such area is the Paynes Prairie Preserve State Park.
The Paynes Prairie is a spot where the land is as close to its native state as possible. Also, bison likes savannas, which is exactly what Paynes Prairie has been for a long time and currently is. Also, the bison in the state are well-equipped to endure extreme weather circumstances.
Also Read Bison In Colorado
Can You Own/Raise Bison In Florida?
In Florida, bison can be owned and raised for meat as bison meat has been on the rise in the state. But, make sure to abide by the legal requirements that are associated with raising bison.
Florida, like other states, might have specific permits for owning exotic animals. I recommended you get in touch with Florida's Fish and Wildlife Conservation Commission to know the regulations regarding bison ownership.
Can You Hunt Bison In Florida?
Hunting of bison on public land is not allowed in Florida as they are not native species to the state and also are not having an established wild population. As they are not native to the state, bison are not incorporated into the list of gaming species suitable for hunting on public lands in the state.
You can, however, hunt bison that are grown on private lands by ranch owners. Rules differ according to the ranch so you should contact the ranch owner for more details on hunting bison.
Also Check Our Guide On Bison In America
Conclusion
And that was everything you need to know about the Bison In Florida. I hope this article answered all your queries.
Thank You For Reading!
Our Source For This Guide
Founder Of This Website
I'm a passionate animal lover and researcher, I've created this website so that people can learn about the size and characteristics of different animal species. My goal is to educate and inspire people to appreciate the diversity of our planet's wildlife.