Are There Alligators In Tampa Bay?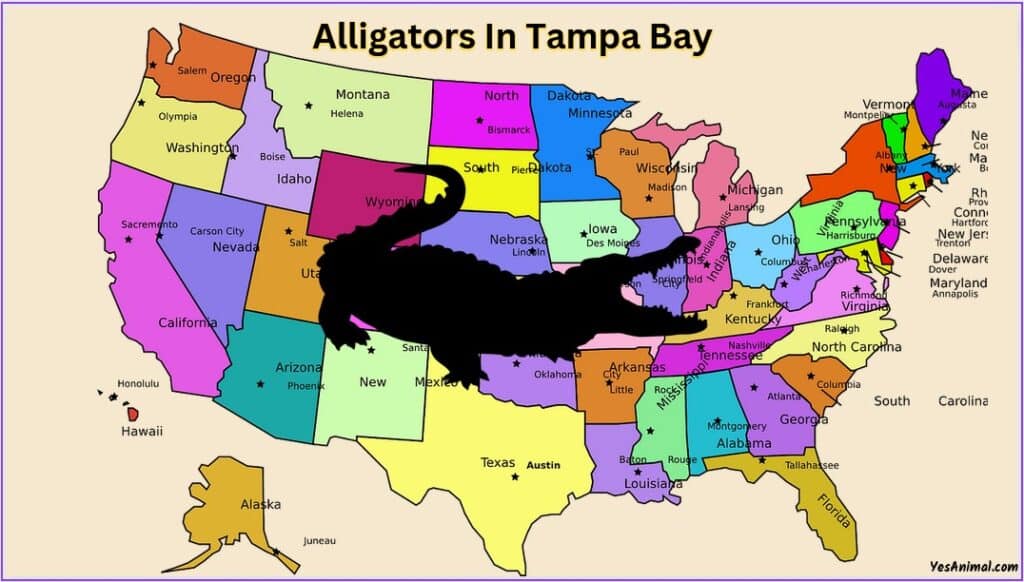 The quick answer — yes, there are alligators in Tampa Bay. Alligators are found all over Florida, they are seen in all the 67 counties in the state, including Hillsborough County, where Tampa Bay is located.
Although you are mostly likely to not have any alligators roaming in downtown Tampa and Tampa Bay, they are certainly in the suburbs. As the phrase goes, if there is a waterbody in Florida, there is an alligator in it and this involves Tampa too.
How Many Alligators In Tampa Bay?
There is no exact statistic counting the alligator population present in Tampa Bay. As there are over 1.25 million alligators living in Florida, which makes them pretty common, discovering them in waterbodies of Tampa Bay is just as expected.
Where To See Alligators In Tampa?
There are plenty of opportunities to spot alligators around Tampa Bay in captivity and the wild. A few popular viewing locations are Sawgrass Lake Park, Honeymoon Island, and Weedon Island Preserve. At all these spots, you can view wild alligators from a safe distance.
Of course, Zoo Tampa is another great spot to view alligators and other animals as well. Alternatively, you can take a 90-minute drive to Wild Florida, which has all information about alligators and other animals that you can find here. You can also spot wild alligators via an airboat ride and feed them in the gator park.
How Common Are Alligators In Tampa Bay?
Though alligators are found across Tampa Bay, they are not very common to find them in the area. This is because alligators prefer freshwater bodies rather than saltwater bodies.
Also, if you are sticking to Tampa Bay, then the chances are very less to see a gator. This is because alligators prefer freshwater bodies rather than saltwater bodies. So to explain, you can see alligators in suburbs and freshwater, but not in Tampa Bay itself.
How Big Are Tampa Bay Alligators?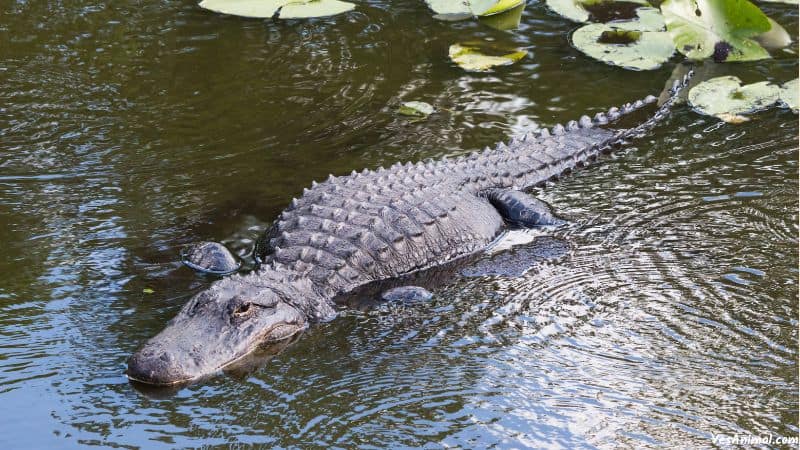 The American alligator is the biggest member of the Alligatoridae clan. Male gators reach up to 15 feet and weigh over 1,000 lb. Whereas females can grow only up to 9 feet in length. The weight of an alligator depends on age, length, season, and food availability. On rare occurrences, males can grow to a greater length that is even over 15 feet. Adult males are relatively bulky and robust when compared to females.
Also Check Our Guide On Alligators In US
Alligator Attack In Tampa Bay?
The recent alligator attack in Tampa Bay was in Lake Thonotosassa, Hillsborough County. The attack was caught by a drone flying above the lake. The victim was attacked by a 12 feet alligator that bit down his, skull, jaw, and head. In that year, this was the fourth alligator attack in the Tampa Bay area on a person.
Can You Hunt Alligators In Tampa Bay?
Floridians have the chance to legally hunt alligators now in the state. The statewide alligator hunting season starts mid-august and runs till the beginning of November and this time, hunters can hunt alligators around the clock. Before, alligator season was restricted only to 17 hours per day and especially at night. But this season, the Florida Fish and Wildlife Conservation Commission has extended it to 24 hours.
According to Florida Fish and Wildlife Conservation Commission, this change will let senior and young hunters to hunt. Last year, over 7,500 alligators were hunted. To participate in the hunting you just need a permit and applications have been accepted by FWC since May.
Over, 15,000 applications are received by the department but only around 7,000 permits are issued. Every successful applicant will get a trapping license, two CITES tags, and a division-specific harvest permit, letting them hunt two gators. For Floridians, they cost $272 for out-of-state hunters they cost $1,000. Hunters must report their alligators harvested to FWC when the season is over.
Also Read Our Guide On Alligators In New Orleans
Conclusion
And that was everything you need to know about the Alligators in Tampa Bay. I hope this article answered all your queries.
Our Source For This Article.
Founder Of This Website
I'm a passionate animal lover and researcher, I've created this website so that people can learn about the size and characteristics of different animal species. My goal is to educate and inspire people to appreciate the diversity of our planet's wildlife.