Are There Alligators In Orlando?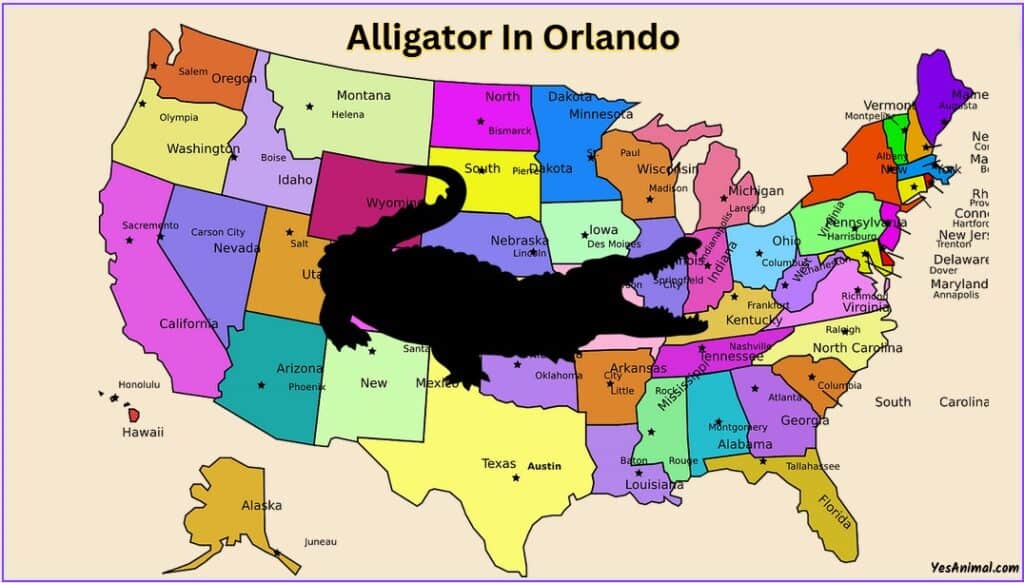 Alligators are abundant in the central region of Florida, including Orlando. This not only includes the outskirts of the city that has the least human interactions but also right in the middle of the city! Virtually any freshwater body such as lakes, marshes, rivers, and swamps can have alligators.
How Many Alligators In Orlando?
The Sunshine State is home to many alligators and the estimated alligator population is over 1.25 million gators living in the state. Of which, Orlando's fittingly major tourist attraction — Gatorland is home to over 2,000 alligators. The exact population of alligators in the city is quite difficult to determine.
Where To See Alligators In Orlando?
State parks and lakes in Orlando are excellent spots to see alligators as they are perfect habitats for alligators that are mostly away from humans and residential areas! The top site to spot alligators in the Orlando wild is slightly in the northern region, at Lake Jesup.
This lake is home to over 10,000 alligators and has the biggest concentration of alligators in the U.S. Another great spot to see alligators in the wild is by going on a tour, like the ones presented by Boggy Creek Airboat Adventures! Or, you can even plan an expedition to Cape Canaveral during your visit to check out the Kennedy Space Center.
Next on the list is Gatorland, which is again the best attraction to spot alligators in Orlando! Here you can see not only alligators but also the other animals and birds that live here. In addition to the many animal exhibits, Gatorland lets its visitors interact with these reptiles in many ways.
How Common Are Alligators In Orlando?
If you are living in the Central region of Florida, these reptiles can show up anywhere, anytime. While alligator encounters frequently make headlines, they are frequently sighted in most of Florida. On average, at least once a day, humans and Florida alligators collide.
The Florida Fish and Wildlife Conservation Commission shows over 380 people have reported alligators last year, that were too near for ease. In this, Orange County was ranked fourth. 
However, most of these documented sightings occurred in residential areas or public parks near wetlands. This is because most of the time humans feed alligators and these reptiles become very used to us. They end up thinking we are feeding them and they try to get close to us.
Also, Check Our Guide On Alligators In Ohio
How Big Do Alligators Get In Orlando?
If you spot an alligator in the Orlando wild, you are most probably to spot an American alligator! These reptiles have an armored body, a muscular tail, and powerful jaws. An adult alligator weighs 800 lb and is over 13 ft in length. 
However, it can grow in size measuring almost 14.5 feet in length, and weigh over 1000 lb. Female alligators are quite small when compared to male alligators. On average alligators have over seventy-five teeth.
Do all lakes in Orlando have alligators?
All natural Orlando lakes are suspected to have alligators. Of all the lakes in the city, the Florida Fish and Wildlife Conservation Commission has stated Lake Jesup in Seminole County has the biggest population of alligators in Orlando.
This is because Lake Jesup used to be a dumping site spot for alligators in the city. In addition, the majority of lakes have stained water that limits visibility. Alligators depend upon this ability to prey and avoid human contact.
Can You Hunt Alligators In Orlando?
The privately- and state-owned wetlands and waters situated in Orange County have public access for harvesting alligators. The recreational alligator hunting season is from mid-August to early November every year.
Depending on the harvest period you pick, you will be allowed to hunt two alligators in the first four weeks. If you have not harvested your alligators in the assigned harvest week, then you can hunt in the 7-week open time, which is from September to November. To take part in alligator harvest, you must need a trapping license, a harvest permit, and alligator tags. 
It would cost $272 for the residents and $1,022 for non-residents. For Florida Residents with Disabilities, it would cost $22. For people already having a trapping license, the permit would cost only $62. 1
Also, Check Our Guide On Alligators In the US
Conclusion
And that was everything you need to know about the Alligators In Orlando. I hope this article answered all your queries.
Our Source For This Guide
Founder Of This Website
I'm a passionate animal lover and researcher, I've created this website so that people can learn about the size and characteristics of different animal species. My goal is to educate and inspire people to appreciate the diversity of our planet's wildlife.