Are There Alligators In New York?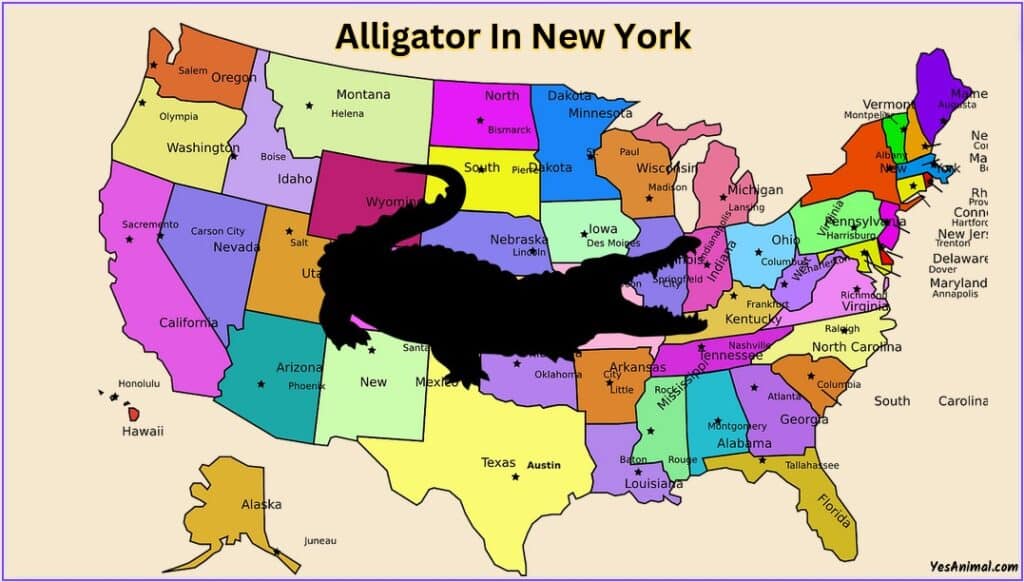 Alligators are not native to New York City. This is because they prefer the warm climates of the southern regions and are usually found only as far as North Carolina. In New York, the climate is far too cold for them to survive.
How Many Alligators Are In New York?
As alligators are not native to New York there is no, established breeding population residing in the state. Any alligator that is found in the state is rescued by the police and transported to animal rescue organizations that care for them.
When these reptiles have fully recovered they are moved to states that have suitable habitats for them to live in as New York has very cold temperatures for them to thrive.
Where Do Alligators Live In New York?
Though alligators have been found in New York, it's unlikely that they survived in the sewers, since they would die of cold temperatures down there. Most of the alligators that are discovered are either confiscated or abandoned by police and are sent to animal rescue organizations or zoos that care for reptiles. However, there is no specific information on where these rescued reptiles live the rest of their lives.
How did the Alligator End up in New York?
To make it so far to the north, they probably either came by mail or their owners had to travel to pick them up. The stories, of these beasts, go back to the early 1930s when these reptiles were brought to the city by rich families who'd make some buying decisions when on a vacation to Florida. Once they are tired of their pets or when they realize it's quite big, they would flush them down the toilets. 
There was a big history of advertisements for mail-ordered alligators in the city, far back as the early 1930s. You can buy a mail-order alligator for just $1.50 and these weren't frauds.
You would not get a rubber one and you'd obtain a live alligator. In 2001, a parcel service driver was alarmed about a box that was dispatched from Atlanta to a home in Brooklyn. When workers opened the box at a parcel service center, they discovered a five-foot alligator with its legs and snout tied with duct tape.
Also, Check Our Guide On Alligators In Mississippi
How common are Alligators in New York?
Alligators appear in New York City often enough to brace the century-old rumor regarding alligators wandering in the sewer system, probably first inspired by the first discovery in 1935. They are spotted behind an apartment, sunbathing in a park in Queens, and a backyard in Brooklyn.
A 3-foot alligator even tried to cross the street in the rush hour in Manhattan. Sometimes when a year or two passes by between the urban alligator finds. However, five of them were caught in Staten Island and Brooklyn in 2018 and 2019. 
The past few years have been a dry period. The Animal Care Centers of New York City, which often receive a report on alligator sightings, have not received even a single report since 2019.
How Big Are New York Alligators?
The alligators found in New York are mostly, American alligators. The average size of an adult female alligator is 8.2 feet, and for a male alligator is 11.2 feet. Extremely huge males can weigh nearly a ton or above. The male alligators are usually bigger than the female alligators.
Can You Hunt Alligators In New York?
You can hunt alligators in New York. The hunting season is regulated by the New York Department of Environmental Conservation and runs from September to October. A permit is needed to hunt alligators in specific divisions. 
Hunters can apply for a permit in specific divisions that are listed by the DEC. Permits are given out on first-come, first-served grounds and the bag limit of each hunter is two per person. Hunters applying must be over 18 years old and have a valid hunting license to apply for one.
Hunters who harvest an alligator must report and bring it to the DEC wildlife biologist within 24 hours for tagging and verification. The hunting License, for residents, would cost $5, and for non-residents $10. They can be hunted only during the day and it is illegal to hunt them at night.
Can You Keep Alligators In New York?
Owning alligators as pets in New York City is against the law. Mailing alligators can be lawful, at least holding them as pets in the city is not, according to the city. For those having them as illegal pets, New York City's 311 page states owners can leave them off at Animal Care Shelters that are located in every borough, counting that those who do this will not obtain any violation.
Also, Check Our Guide On Alligators In the US
Conclusion
And that was everything you need to know about the Alligators In New York. I hope this article answered all your queries.
Our Source For This Guide
Founder Of This Website
I'm a passionate animal lover and researcher, I've created this website so that people can learn about the size and characteristics of different animal species. My goal is to educate and inspire people to appreciate the diversity of our planet's wildlife.