Are There Alligators In New Orleans?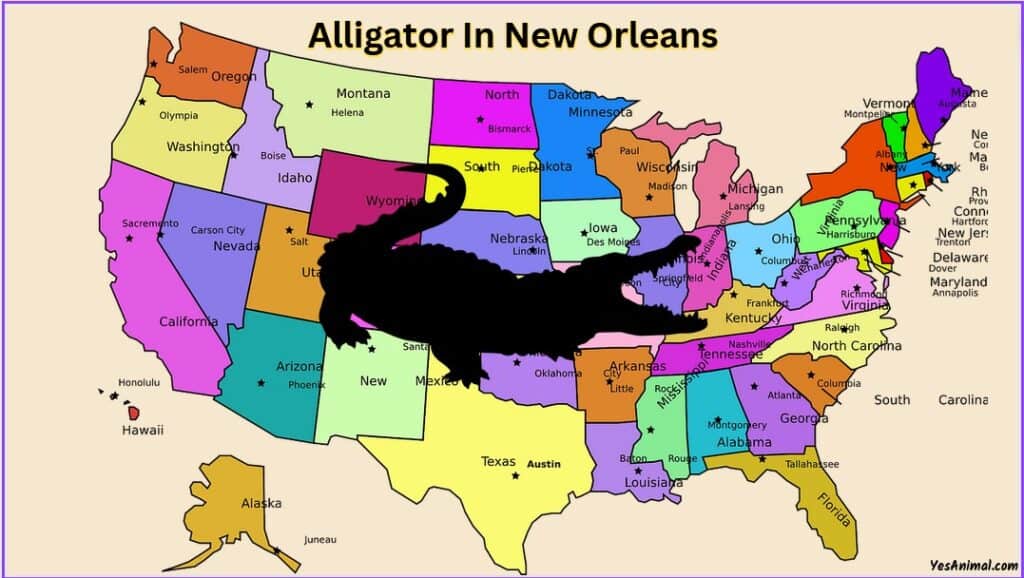 More cheesy movies set in New Orleans have shown people the belief that it's normal happening for dogs to be swallowed by alligators when on morning walks, or that snapping alligators stalk the filmiest corners of school playgrounds. Thankfully, none of this is even vaguely real.
Once upon a time, a reasonable part of what is currently New Orleans was wrapped in thick, marshy wetlands, and like, was mostly definitely inhabited by alligators. Today, though, the marshlands that earlier engulfed much of New Orleans have been removed, and the alligators now are largely gone.
How Many Alligators Are In New Orleans?
Louisiana did not always have an abundant population of alligators. During the early 1960s, the Louisiana Department of Wildlife and Fisheries saw a huge drop in the population. Poachers, killed them to sell their skin to the fashion industry.
Since then, many conservation programs helped in their survival. Since 1985, around 300,000 alligators thrived to about 1-2 million today in Louisiana. Experts think there are just a handful of alligators in the New Orleans wild, though it is hard to determine an actual number of alligators.
Where To See Alligators in New Orleans?
The only spot within the city to see an alligator is in City Park. you can see alligators lurking in the waterways and lagoons. According to the Department of Wildlife and Fisheries, the gators here are on the smaller side and when they grow big they are relocated. There is no guarantee, but the odds to spot one are pretty good.
If you want to see alligators in the wild, then you can try taking a boat tour or visiting a nature preserve. Several good swamp tour offer service around the French Quarter, where experienced guides are good at finding alligators in the wild. If you want to see one when hiking, you go to the Barataria Preserve near the Jean Lafitte National Historical Park. This spot has an extensive network of paths that takes relatively close to gators and other animals.
If looking for a guaranteed gator sighting, then the Audubon Institute has got you covered. You can spot alligators at the Audubon Zoo. Currently, the Institute is known for the white alligators, which are especially attractive to see and not possible to be found in the wild. The Zoo also has regular gators, including impressively huge ones that you can spot from quite up close.
How Common Are Alligators In New Orleans?
Alligators are a not common sight around and in New Orleans waterways, as they are extremely rare. Alligators can be found only in the City Park, Audubon Zoo, and the French Quarter regions. As there are just a very few alligators in the New Orleans wild.
Also Check Our Guide On Alligators In US
How Big Do Alligators Get In New Orleans?
The American alligator is the biggest member of the Alligatoridae clan. These reptiles are around 9 inches long when they hatch. Their growth rate relies on various factors including their sex, habitat, and age. The growth rate tends to slow down as they get older. Male alligators grow quicker and bigger when compared to females.
Females rarely grow over 9 feet in length and big female alligators can weigh over 200-500 pounds. Males rarely grow over 13 feet in length and big males can weigh over 500-1000 pounds. Alligators living in the wild can live over 60 years, but when kept in captivity they tend to live even longer.
New Orleans Alligator Attack?
The most recent alligator attack in New Orleans-area was recorded on August 30, when a 71-year-old, New Orleans resident went missing in Hurricane Ida's aftermath.
The man's wife stated that she heard a splash outside there, the day after Hurricane Ida. When she walked out, she saw her husband being attacked by the alligator, which already haad ripped his arms off.
Two weeks later, local deputies found the alligator roaming around the neighborhood with human remains inside the alligator. It was then found that the man was attacked by a 12-foot-long, alligator, weighing 504lb. The city officials said that they have ruled the death as an accident. This appears to be the city's first fatal alligator attack in recent times.
Can You Hunt Alligators In New Orleans?
Yes, you can hunt alligators in New Orleans. According to the Louisiana Department of Wildlife and Fisheries, the alligator hunting season begins on the first Wednesday of every September and goes for 30 days. Hunter must have alligator tags that are given out by the Department on property that has sufficient alligators to harvest.
Alligator hunters should apply for tags before the season. Resident Hunter License costs $25 and per alligator tag cost about $40. For non-residents, it would cost $150. Each hunter will get three alligator harvest tags in their selected hunting division.
Also Check Our Guide On Alligators In Missouri
Conclusion
And that was everything you need to know about the Alligators in New Orlean. I hope this article answered all your queries.
Our Source For This Guide
Founder Of This Website
I'm a passionate animal lover and researcher, I've created this website so that people can learn about the size and characteristics of different animal species. My goal is to educate and inspire people to appreciate the diversity of our planet's wildlife.