Are There Alligators In Myrtle Beach?
Though cannot be seen on the beach itself, they are present in the Myrtle Beach region. Historically, the alligator population in the state was on the verge of extinction because of hunting. Alligators were extensively hunted in the state of South Carolina for their skin.
However, thanks to many conservation groups that help in increasing the population which has become more stable and thriving in the state. They have been increasing in population and the state has decided to open a hunting season for them.
According to state wildlife officials, these reptiles play an important role in the state's ecosystem. They are often spotted in state parks, retention ponds, and sometimes even on the beach.
Where Can I See Alligators In Myrtle Beach?
There are many areas near Myrtle Beach where alligators are present. If you are interested in going on an alligator sighting in the Myrtle Beach location, the most popular spot among them is Huntington Beach State Park, situated south of the Myrtle Beach region. The park houses a huge variety of wildlife, which includes alligators. They can be often seen lying near the freshwater lagoon, running in the park.
Brookgreen Gardens, in Murrells Inlet, is another spot to see alligators, as the Waccamaw River, runs through the Myrtle Beach area. Sometimes these reptiles can be seen in retention ponds, that are constructed to collect stormwater runoff in urban areas.
Alligators reside in these ponds, as they can discover plenty of places and food. The beach is also, another spot to spot small alligators that show up in there from time to time. This is mostly after a huge thunderstorm which leads to movement.
Are Alligators A Problem In South Carolina?
Alligators have been a problem in South Carolina for decades as there are over thousands of alligators in the state, a precise count can be difficult. Though they are less than Sharks bite in South Carolina, they live among us.
Sometimes they can be seen jumping into your swimming pool, knocking over patio furniture, or even seen delaying a flight's arrival in Charleston. Alligators can be a big problem in the summer and spring when alligators encounters occur the most. This is because they are very active as it is their mating season.
How Common Are Alligators In Myrtle Beach?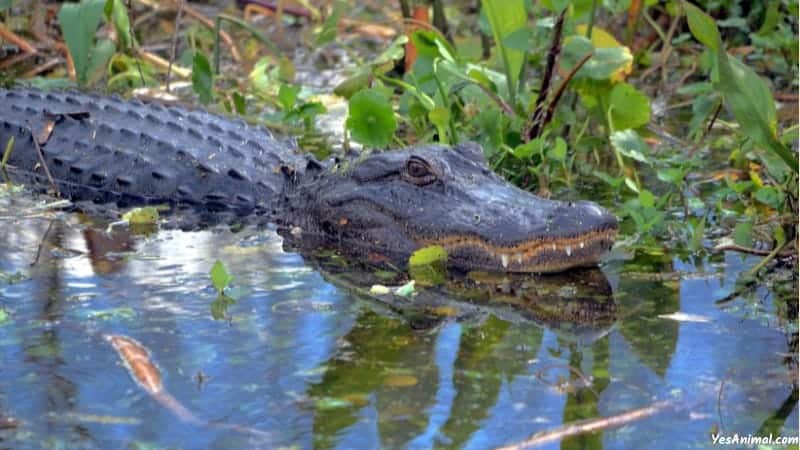 Though alligators are not found on the beach itself, they are quite common where there is fresh water. About 1,000 reports are received every year, by the South Carolina Department of Natural Resources from its residents who have spotted an alligator too near for comfort — a phone number that has been steady for decades. Sometimes these creatures can be seen taking a stroll at Yacht Community and Myrtle Beach Golf.
Also Check Our Guide On Alligators In US
How Big Is The Alligator In Myrtle Beach?
The Alligators in the Myrtle Beach region are a species known as American Alligators, and they are the only kind of alligator species native to the U.S. They are dark-colored and have a creme underbelly.
An adult alligator can be anywhere from 8 to 11 feet long and weigh anywhere from 400 to 800 pounds. Their webbed feet make it easy for them to swim. They have wider mouths with over 80 teeth that are hidden with closed mouths. Alligators are opportunistic feeders and are very quick when attacking their prey.
Are Alligator Attacks Common In South Carolina?
Alligator attacks have been very common in South Carolina for decades. Also, alligators are fearful of humans and thus they are more likely to attack humans especially when with pets as they see them as prey.
But death by alligators stays exceedingly occasional, however, bites have risen slightly in the state, but still an average of fewer than two every year. They have killed up to five people in South Carolina and five gator deaths have been documented in the state since 2000.
The state has documented over 23 alligator attacks, 5 of them fatal, since 2000. Twenty of these attacks happened in Beaufort and Berkeley counties. One was in Horry County Two were in Charleston County. 1
Also Check Our Guide On Alligators In Louisiana
Conclusion
And that was everything you need to know about the Alligators In Myrtle Beach. I hope this article answered all your queries.
Thank You For Reading!
Our Source For This Guide
Founder Of This Website
I'm a passionate animal lover and researcher, I've created this website so that people can learn about the size and characteristics of different animal species. My goal is to educate and inspire people to appreciate the diversity of our planet's wildlife.