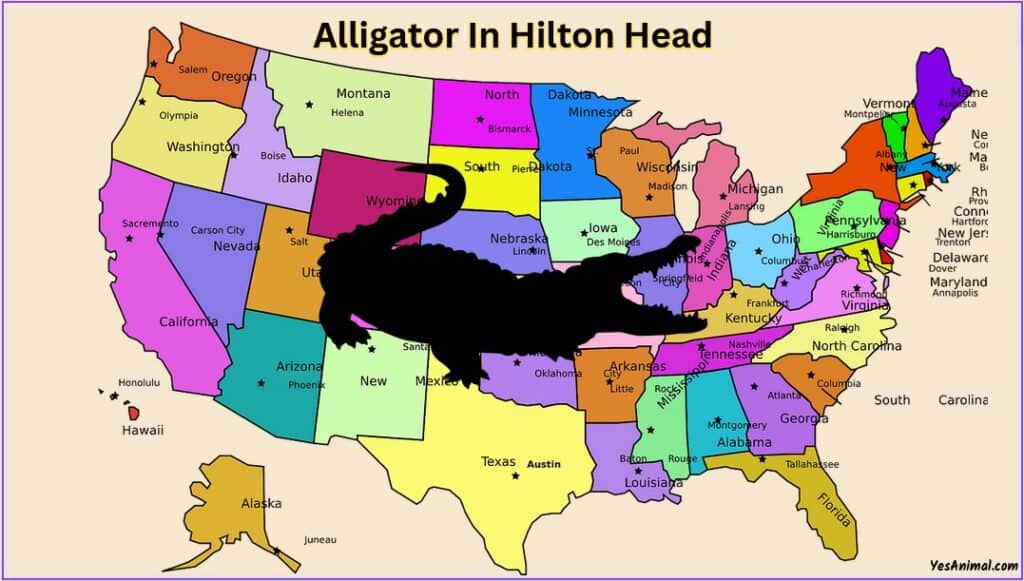 Planning your next trip to Hilton Head Island? Be prepared because their beaches don't just have shells, crabs, and humans roaming around but also alligators. Yes, you read it right, alligators too sometimes are spotted on the beach shores.
And you are most likely to spot one in any area of the island as well. Don't worry, we have put together everything about alligators in the state so that you are well prepared before you are face-to-face with these beasts. Let us start with their presence in the state and then move on to their features and hunting regulations.
Are there Alligators on Hilton Head Island?
Yes, there is a substantial population of alligators in the state. They are native to the state and can literally be spotted in every place on the island. Hilton Head Island is part of South Carolina which is typically populated with a large number of alligators. These alligators have migrated to Hilton Head as the island has a suitable habitat for alligators' survival.
Although you cannot find them in the islands' marshes you can definitely find them in freshwater ponds and brackish lagoons.
How Many Alligators in Hilton Head?
Although it is difficult to provide a precise population of alligators in Hilton Head, as per local people there are about 1200 alligator individuals.
It is important to note that there hasn't been an official survey of alligators on the island and for their sake as well as ours, the survey needs to be done as soon as possible. This responsibility primarily falls in the hands of the South Carolina Department of Natural Resources.
Alligators are an important part of the island's ecosystem and have a unique role to play as one of the top apex predators. Without knowing their official presence in the state, conservation, and monitoring of these creatures cannot take place in an efficient manner. Therefore, an official survey of the number of alligators on the island is required.
Where To See Alligators In Hilton Head?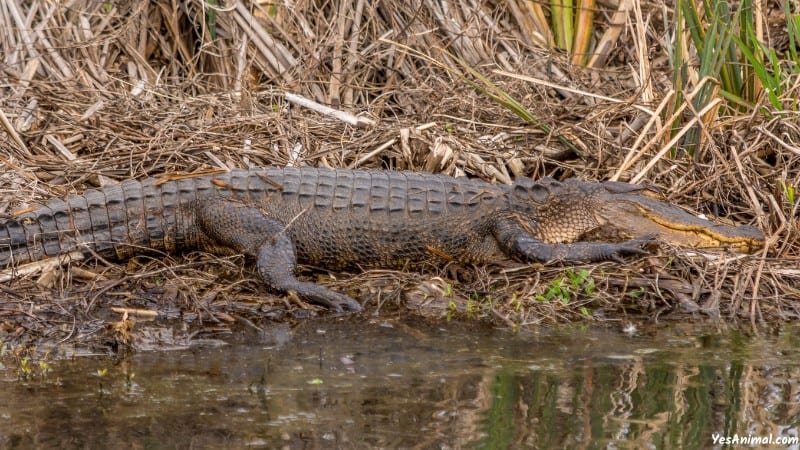 Although alligators are seen on the beach shores, these creatures do not live on the beach as it is full of salt water. Alligators need fresh water and can therefore be found in freshwater sources, brackish lagoons, and ponds.
Some particular places to go if you want to look at crocodiles are Jarvis Creek Park, Palmetto Dunes, Shipyard and Sea Pines, Golf courses, and Pickney Island.
Also, Check Our Guide On Alligators In the US
How Common Are Alligators In Hilton Head?
Much more common than you think. As per local people, you could spot one on the beach as you walk out of waves, near bike trails, and essentially wherever and whenever you are outside. 
Some of this might be an exaggeration but mostly as per visitors, alligators are very common in the freshwater ponds and lagoons over the island. In other spots, we aren't sure about either.
How Big Are Hilton Head Alligators?
Hilton Head alligators are as big as alligators from other states. In fact, alligators are the largest animals you could find on the island. Adult males are larger than adult females and weigh in general anywhere between 300 to 800 pounds and sometimes even reaching 1000 pounds. 
Note, that these creatures live for at least 50 years and only keep or get bigger year by year. Thanks to their food source being present all over the state. In terms of height, they typically measure between 7 to 13 ft with some reaching and exceeding 15ft.
How Many Alligator Attacks In Hilton Head?
As per news channels, there have been at least 3 reported alligator attacks in Hilton Head in the last 2 years. The attacks took place in gated communities and occurred mostly in the morning hours in areas near lagoons. All three were women out of which 2 of them died succumbing to their injuries and one of them was rescued by neighbours.
These creatures are deadly. You may think that the alligators that attacked these women must have been big, but it's not. They were just mid-range alligators measuring 8 to 9 feet which is average considering alligator length range that's between 7 to 13 feet. So always be careful near freshwater sources and maintain at least a 40-60 m distance between an alligator and yourself.
Where Was The Alligator Attack In Hilton Head?
The last alligator attack in Hilton Head took place in Sun City Hilton Head, which is an active adult community home. The victim was one of the 16,000 residents and on the day of this fatal accident was gardening. There was a nearby pond which to her dismay inhabited alligators. She slipped and was killed by one of the alligators inside it.
Although the alligator was euthanized, residents of Sun City Hilton Head and other places across the country should pay extreme caution. Also, the woman was quite old at the age of 88 to be exact when she was killed. Best avoid any places with vegetation in ponds, or lakes, and always keep your pet very close to you when walking in trails near ponds. 1
Can You Hunt Alligators in Hilton Head?
No, It is not legal to hunt alligators on Hilton Head Island. The island falls under Beaufort County where alligator hunting is not permitted. Alligators are also an important tourist attraction on the island, and therefore their presence is particularly important for the island's sustainability. But if you do find a dangerous and deadly alligator near your residence, immediately contact the local authorities. The alligators will be euthanized or relocated. Stay safe.
Also, Check Our Guide On Alligators In Arkansas
Conclusion
And that was everything you need to know about the Alligators In Hilton Head. I hope this article was informative and your queries were answered.
Our Source For This Guide
Founder Of This Website
I'm a passionate animal lover and researcher, I've created this website so that people can learn about the size and characteristics of different animal species. My goal is to educate and inspire people to appreciate the diversity of our planet's wildlife.