Are There Alligators In Georgia?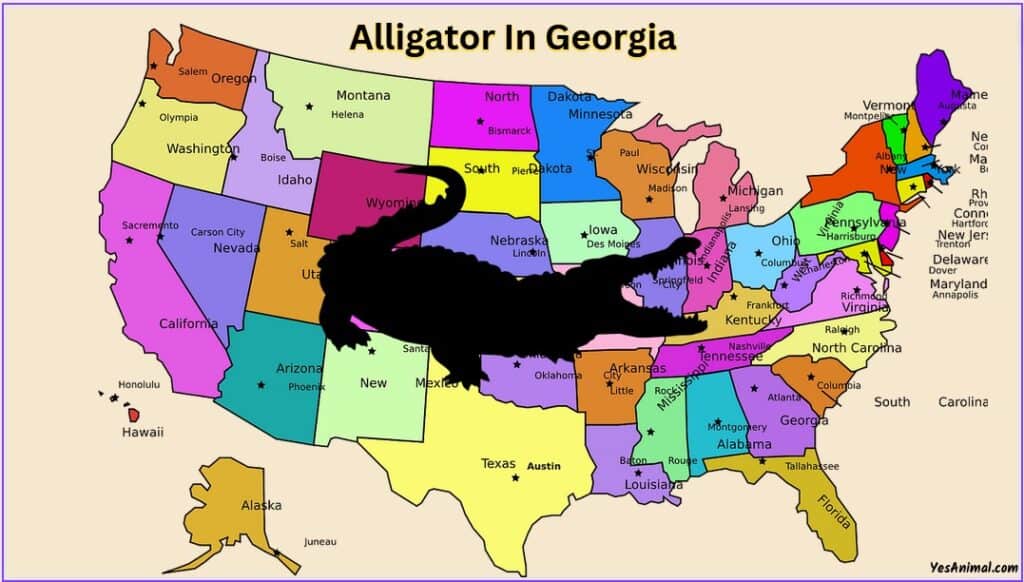 Alligators have transformed a little from their original form a few million years back in Georgia. In the later 1950s, gators were hunted to almost extinction, but thanks to many protective measures taken by the federal and state governments to maintain their population from disappearing altogether.
This protection let the population grow and were removed from the "protection" level in the year 1987. The removal of full protection from this status lets Georgia have greater flexibility in controlling alligator populations. Today, the state has a stable population of alligators that have thrived in the past years.
How Many Alligators In Georgia?
Georgia's alligator population is around 200,000-250,000 and typically most of the population lives much further south of the alleged "fall line" – which is below Columbus and Augusta. The population of alligators is determined through close monitoring of the number of alligators harvested every year.
How Common Are Alligators In Georgia?
Residents of Georgia must not be surprised to find alligators in creeks, ponds, or huge drainage ditches, says the Georgia Department of Natural Resources. You can expect gators to be present in any water body in Georgia, as there is a substantial population of gators in the state.
Also, it is not unusual for small alligators to be seen in small ponds that are present in urban areas. This is not because they were placed by someone, but gators tend to move to other ponds looking for water sources.
Are Alligators A Problem In Georgia?
Though there have been only a very few alligator attacks in Georgia, they have been a problem in the state. For instance, a sun-seeking alligator was caught stopping traffic near the Joe Tamplin Industrial Boulevard in Bibb County.
Likewise, a gang of alligators decided to make a golf course their home and another one was seen taking over the local business on 11th Street in Bibb County. The Georgia Department of Natural Resources says the best way to avoid them is by just maintaining your distance from them and letting them go on their way.
Also Check Our Guide On Alligators In US
How Big Do Alligators Get In Georgia?
Alligators live more than 60 years when in captivity and when in the wild they barely live over 50 years. Male alligators grow almost 16 feet long, though 14-footers are occasional and female alligators grow around 10 feet.
They grow roughly 8 to 10 inches every year until their around 8 years old when they reach their sexual maturity. Huge alligators can weigh more than 800 pounds. During the first few years of their lifetime, their diet consists of small prey like snails, frogs, crayfish, and insects.
Depending on their age and size, huge gators consume fish, snakes, turtles waterfowl, and beavers. They can also be seen feeding on carrion and when given the opportunity they consume small pets and other domestic animals like pigs and goats.
How Many Alligator Attacks In Georgia?
Georgia is one of those few states that has very less alligator attacks that average to almost zero per year. The last fatal alligator attack in Georgia was on October 5, 2007. A Canadian woman was attacked on Skidaway Island, which is east of Savannah in Georgia.
The woman was found floating in a lagoon that is behind her daughter's house. The autopsy results reveal that she has been attacked by an 8-foot alligator. According to the Georgia Department of Natural Resources, there have been only nine reported alligator attacks in that state from 1960 to 2007.
Six of these happenings occurred as a result of humans stepping on them or making contact with the submerged ones. The remaining incidents were consequences of the alligators mistaking humans for prey.
The reason for this small number of alligator attacks is that calls are referred to the DNR which sends in a licensed trapper to remove them immediately for public safety.
Can You Hunt Alligators In Georgia?
Georgia's alligator hunting season has a designated quota hunt that limits the number of hunters. The bag limit for each hunter is only one alligator above 48 inches, from their designated hunting division.
Hunters can apply online and when applying they select their preferred hunt divisions. Hunt divisions and the number of permits available will be shown on the WRD website. After this, a random draw will pick the applicants for each hunt division.
Selected hunters will obtain a harvest permit and temporary harvest tag that will cost around $75. The tags and permits received are not transferable and should be in possession when hunting.
Also Check Our Guide On Alligators In Florida
Conclusion
And that was everything you need to know about the Alligators In Georgia. I hope this article answered all your queries.
Our Source For This Guide
Founder Of This Website
I'm a passionate animal lover and researcher, I've created this website so that people can learn about the size and characteristics of different animal species. My goal is to educate and inspire people to appreciate the diversity of our planet's wildlife.