Are There Alligators In Arkansas?
Once prized for its priceless skin, the American Alligators were almost hunted to near extinction. Thank many conservation groups that helped bring back the population to normal in the nation. 
Fortunately, due to this alligator populations in the state of Arkansas have grown following the last two decades of protection given by the Endangered Species Act. The freshwaters of Arkansas Post National Memorial supply a beneficial habitat to many alligators.
How Many Alligators In Arkansas?
In Arkansas, the alligator population has gone up throughout the decades but the Arkansas Game and Fish Commission has claimed that there are slightly over 3,000 alligators thriving in the state.
Where Are Alligators In Arkansas?
The two places where you are most likely to spot alligators in huge larger numbers are Millwood State Park and Arkansas Post National Memorial. Arkansas Post's wetland bayous, marshes, and lower terrain provide that prime habitat for these reptiles. The national site is situated around Dumas in Desha County.
Alligators be found even in the marshes of Millwood State Park, which is situated near Ashdown. You may get to spot alligators even across the other regions of the state, including the Ouachita River, the lower Arkansas River area, and the Bayou Bartholomew area, this also includes the Red River area and Lake Chicot State Park.
How Common Are Alligators In Arkansas?
This depends on where you are, Alligator territory encircles the southern half of Arkansas and also extends north into the Delta. However, they are kept mostly within swampy areas around rivers, streams, and lakes. 
The northern region of Arkansas is simply too cold for alligators to thrive. The two places where you are most likely to spot alligators in huge larger numbers are Millwood State Park and Arkansas Post National Memorial.
How Big Are Arkansas Alligators?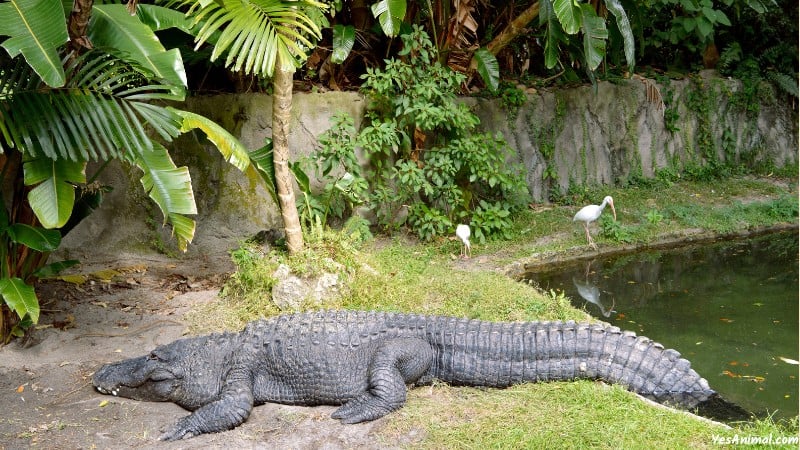 American alligators are the biggest species of the Alligatoridae clan. Huge male alligators can reach over 15 feet in length and can weigh over 1,000 lbs. Whereas females can reach up to 9-10 feet. Female alligators are usually smaller in size when compared to male alligators.
Depending on the season, and food availability sources the size of the alligators can differ. Similarly, the temperate zones can also decide the size of the alligators. The ones from the northern range, including the ones in Arkansas, tend to be other smaller side.
Read Our Guide On Alligators In the US
Can You Hunt Alligators In Arkansas?
Alligator hunting in Arkansas is allowed every fall, but only for a limited time. The hunting permits must be obtained from the Arkansas Game and Fish Commission. Interested hunters should apply for these permits in June for 15 days.
Applicants should pick one of the six hunt divisions within two of Arkansas Alligator Management Zones. Only less than fifty permits are available. Alligator hunting season in Arkansas is in September and runs in two batches for 3 days each. Zone 1 has 22 permits and Zone 3 has 21 permits. 
However, Zone 2 is not available for a public draw, as it is a private land hunt, that is regulated using a quota scheme. Hunter can harvest an alligator that is only above 4 feet. Hunting begins after sunset until before sunrise. You can have helpers, but they are permitted only to hold your harpoon and kill the alligator.
Arkansas residents should have a valid resident gaming license to hunt alligators. Non-residents can alligator only on private lands and must have a non-resident gaming license along with the permit for Non-Resident Private Land Alligator. Non-residents can not participate in the public land permit application drawings.
Can You Keep Alligators In Arkansas?
Owning an alligator as a pet in the U.S. can be complicated, however, a few states do allow it and Arkansas is one among them. To own an alligator a pet in the state you will need proper permits or licensing.
Though the state allows ownership of alligators, there are a few federal laws that should be observed as alligators are safeguarded by the U.S. Fish and Wildlife Service. The department has its measures to implement, that you must comply with.
Alligators must be kept in their own enclosure, and owners must need a habitat that has both water and land. The enclosure must ideally be double the size of the alligator, and the width must be greater than the alligator's length.
Water components must have enough depth for the alligator to submerge completely and all of this must be in a caged enclosure, that is built with materials that can not let the animals escape.
Also, Check Our Guide On Alligators In Alabama
Conclusion
And that was everything you need to know about the Alligators in Arkansas. I hope this article answered all your queries.
Our Source For This Guide
Founder Of This Website
I'm a passionate animal lover and researcher, I've created this website so that people can learn about the size and characteristics of different animal species. My goal is to educate and inspire people to appreciate the diversity of our planet's wildlife.